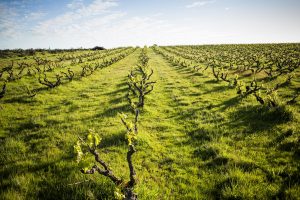 Yangarra's High Sands Grenache has been a star performer over the years (see all our reviews here) but the stunning quality of the just-released 2014 made us stop and think. Is this Australia's Best Grenache?
A recent chance to taste a complete set of this benchmark Grenache was the perfect way to dig deeper. What is now irrefutable is that this isn't just an emerging classic. It's an outright classic.
Grenache has always been a vital variety of the Australian red wine landscape but it's only relatively recently been recognised for its true worth. Top level Grenache, grown and handled properly, is great wine full stop.
And Yangarra Estate's High Sands Grenache could well be Australia's best version of the variety. Which by extension makes it one of Australia's best red wines. Across all-comers.
The High Sands comes from Block 31 of the dry-farmed High Sands Vineyard, planted in deep sand in 1946. It's well worth having a look at the interactive map on the Yangarra website (see here). In terms of treatment in the winery, the hand picked grapes are berry sorted (by machine), 50% is crushed, and then given a five day cold soak at 10c. Wild ferment. Only plunged, no pressings used, and old French oak is employed (second and third fill). The epitome of delicate, sensitive – respectful – handling.
With great and distinctive sites, you can see vineyard through the prism of vintage clearly. Certainly it's the case with sites like Tyrrell's 4 Acres, and no different with High Sands. There's a transparency and clarity that comes through year after year. A personality, distinct and wonderful. These then, are the wines that should make us proud of Australia.
Here then are notes on a vertical tasting of Yangarra Estate High Sands Grenache: 2010, 2011, 2012, 2013 and the just-released 2014.
2010 – Production: 1,620  bottles. pH 3.28 TA 6.7 14.5%
Here's the most powerful and muscular of the wines on the table, though that's no complaint either. It's compact and ripe, a rich pool of darker fruits,  some dried flowers, cedar perfume, a little liquorice even. Tannin ripples through the wine with a distinct gravelly feel, loam and savoury stuff, blackberry and raspberry, with a light mint garnish pushing through a long finish. Less graceful than some later vintages, but a powerful wine of substance and structure, still in evolution. 95 points Drink 2017-2027+
2011 – Production: 446  bottles. pH 3.26 TA 6.8 14%
This wine received a bit of a touch up from TWF on release, and while it's certainly improved, it's still the weakest link. Smells good. Perfume, red fruits, a little forest floor, and a dusting of pepper. Light to medium bodied, a core of cool red fruits and spice, a touch drying and astringent in the acidity and tannin department, with a finish that's somewhat abbreviated, but does have a cool cranberry crispness that lends appeal. A little dilute, though it seems to be improving, rather than fading, so it may well have a few tricks left up its sleeve. 89+ points. Drink 2017-2025+
2012 – Production: 1,920  bottles. pH 3.36 TA 6.48 14%
Here seems to be the middle ground between the heft and density of the 2010, and the finesse and superb architecture of the 2013 and 2014 (reading ahead). It's ripe and fleshy, dark raspberry, cherry, dried rose/potpourri perfume, concentrated and firm in the mouth with slaty tannin, a sweet and savoury finish of excellent length. Density and fruit weight. Great wine. 95+ or 96 points. Drink 2018-2030+
2013 – Production: 3,252 bottles. pH 3.12 TA 7.6 14.8%
An absolute screamer here. Cherries, raspberry, sage and dried mint, earthy and peppery too. Medium to full bodied, dark red fruit, spice, but so clear and articulate, and despite its heft, seems have a clarity and precision that marks it out as a special wine. The length is something to behold, with a slick of tannin and savoury/fruit sweetness mingling to compelling effect. Brilliant. 96+ points. Drink 2018-2033+
2014 – Production: 3,336 bottles. pH 3.36 TA 6.48 14.5%
Beautiful fragrance here – fresh field roses, raspberry, aniseed and dried mint, almost a chocolate thing going on too. Medium bodied, gentle sweep of sweet fine grained tannin, plump red berries lend succulence, but it's not confected or gooey in any sense. Dusty and spicy, great length of flavour, with earthy tannin grounding it and pushing it long. Incredibly good wine. Hard to choose between the 2013 and 2014. The former with maybe more length and impact, the latter all grace and charm. 96+ points, though could even twist my arm to 97.  Drink 2020-2037.


Tasted : Jun17
Alcohol : 14.5%
Price : $140
Closure : Screwcap
Drink : 2020 - 2037
Visit winery website


Add to My List