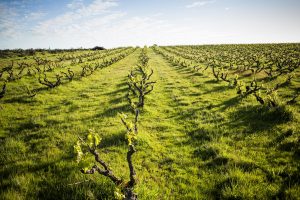 Yangarra's High Sands Grenache has been a star performer over the years (see all our reviews here) but the stunning quality of the just-released 2014 made us stop and think. Is this Australia's Best Grenache?
A recent chance to taste a complete set of this benchmark Grenache was the perfect way to dig deeper. What is now irrefutable is that this isn't just an emerging classic. It's an outright classic.
Grenache has always been a vital variety of the Australian red wine landscape but it's only relatively recently been recognised for its true worth. Top level Grenache, grown and handled properly, is great wine full stop.
And Yangarra Estate's High Sands Grenache could well be Australia's best version of the variety. Which by extension makes it one of Australia's best red wines. Across all-comers.
The High Sands comes from Block 31 of the dry-farmed High Sands Vineyard, planted in deep sand in 1946. It's well worth having a look at the interactive map on the Yangarra website (see here). In terms of treatment in the winery, the hand picked grapes are berry sorted (by machine), 50% is crushed, and then given a five day cold soak at 10c. Wild ferment. Only plunged, no pressings used, and old French oak is employed (second and third fill). The epitome of delicate, sensitive – respectful – handling.
With great and distinctive sites, you can see vineyard through the prism of vintage clearly. Certainly it's the case with sites like Tyrrell's 4 Acres, and no different with High Sands. There's a transparency and clarity that comes through year after year. A personality, distinct and wonderful. These then, are the wines that should make us proud of Australia.
Here then are notes on a vertical tasting of Yangarra Estate High Sands Grenache: 2010, 2011, 2012, 2013 and the just-released 2014.
Tasted : Jun17
Alcohol : 14.5%
Price : $140
Closure : Screwcap
Drink : 2020 - 2037
Visit winery website
Add to My List