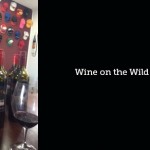 "We finally got our first spittoon four years ago. The first time I saw it I thought it was a funny shaped barrel. My son Liam reckons I'm still trying to work out what spittoons are for, but yes, our cellar door now has one". That's how I remember him. It's been six or so years but little's changed. The energy is there. The whip crack of quirk. Fit as a fiddle with shiny head and bushy beard. Beaming, rubbing hands, machine gun chatter and big on the yarns.
You'd imagine him in an threadbare footy jersey, propping up a stool at a pub, leaning over a neighbours fence, fixing the tractor. He's done it all. Once was a portrait painter who trained under one of Australia's greats. Set up a fencing company and worked his guts out. Laboured as a farmhand. Bought land, planted vineyards, tacked together a dirt floor winery and applied a healthy dose of bucket science. Went for it. Full throttle life, full throttle wines.
The unorthodox grape grower and winemaker behind the unswerving, uncompromising wine styles of Wild Duck Creek. David 'Duck' Anderson.
Then fate jumped in. Or luck. Or capturing a lightning bolt in a mason jar.
That Parker fella found his way into a couple of deeply-flavoured, turbo-charged, sultry textured, imposingly black glasses of Duck's stuff and handed him the name of the winning horse. High scores for the whole range. Alarms and bells.
Y2K sailed by and the online wine forums hotted up. A farmer-winemaker out of the warm belly of Australia, working out of a tacked-together shed, with wines he was more or less sharing with mates, with digits soaring towards 100… You could see it from the nose bleed section.
Next, the impossible.
The $50 red from Heathcote with the armada of the winery's capability thrown at it, with alcohol and ripeness levels in bottle that some joked should come with a fire retardant seal, scored one point off perfection. To that point, the highest score ever given to an Australia wine by the most esteemed of all esteemed critics.
Hushed tones as you opened your cardboard box to reveal the little webbed duck feet skittering across the dark bottles.
A rumble to a roar to an avalanche.
The $50 bottle became $75, then $100, then who knows what happened, but the auction world tugged and pulled and scrambled and the little-big wine from Heathcote hit the US $3000 a bottle milestone.
And Dave never stopped delivering out of his beaten up van. Never stopped to drink with his customers. Never stopped eyeing off those big steel bowls with suspicion. But where's he been? It's been six years in the wilderness for me. Those mornings rolling up in the back lanes of East Sydney, bounding out of the car with bottles skew-whiff under elbows and armpits, jostling for glasses. Lusty pours and back slapping; hearty wines on brisk mornings between the nip of concrete and steel. Wines that set hearts and bellies on fire, capturing an era of drinkers.
Then a beat. Then another. Where did the wines go?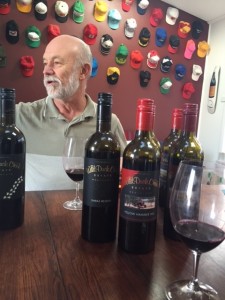 Did everyone forget? Did the world move on?
"All I think about is the people on our list; the people who turn up year after year after year", says Anderson, "that's who these wines are for. I can't tell you how nice it has been having a wine that's kind of gone viral. We still get phone calls about it. But in the end, we make the wine for those who love the stuff. For that customer mate of mine who just says 'send me what you've got left'. For those ones who drink close to a bottle a day, maybe a bit more on weekends. Guzzle the stuff. Big flavours; wines for drinking with gusto for people who love drinking like that.  That's what we keep on keeping at".
So the beaten up van is in the panel shop, "I think it hit 'roo number sixteen and it needed a little makeover", quips Anderson.
This time it's a sturdy, nuggety looking VW Golf Diesel that's been pummelled back into shape from a raft of misdemeanours. Anderson's out like a flash, bottles under armpits and elbows, rummaging in the back seat of the car, this time with a little stray dog he's taken in from a pound, 'it's a dwarf German Shepherd", he says of the scrawny, fawn and black coloured mutt, "we feed him the small size dog food".
He turns around, bottles aplenty, big box of the dark, foreboding things. "It's been a while", he beams.
The last Duck Muck was from 2007.
"Nothing fit. My son Liam is winemaker heir and I told him to go with instinct. I started making wine at 32, he's done twelve vintages and he's just 34, he's the one with experience", offers Anderson of the lag between wines, "I said if the hair isn't standing up on the back of your neck, it's not the right wine".
The wine has always been turned up to 11 on the dial.
"I wanted Duck Muck to be a gutsy wine from the get go; healthy, but unhealthily alcoholic. It used to be about packing in as much fruit, oak, acid, tannin, power as you could, but this release, and for now, we're looking to be more like a freight train that creeps up on you. That being said, if you can see two fingers through the wine, you've fucked your wine up, so that's in mind too", Anderson offers, "in the end, as long as you've got sound wines that people like drinking that's the end game".
So black. So dark. Menacing from the glass. Curiously subdued but evocative perfume of tar, smoke, black berry compote, olives and wet earth with whiffs of cedar and clove spice.
Interestingly, the wine still holds one of Anderson's in-jokes. Take a close look at the label. In smallish font, under the 'marketing guff'. 'SAE 200W' – a cryptic code.  "Robert Parker mentioned that the wine had serious viscosity, or was oily viscous or something, so I had it officially tested against the Australian standard for motor oil viscosity and that's the rating right there", Anderson keeps 'em coming.
Bullish, the palate rolls with impressive, powerful intent. Few wines generate this velocity. Concentrated to oil slick texture, slippery with almost molasses-like potency, midnight fruit, compaction of firm, oak tannins and the bitter-sweet pull of skinsy, black fruit pressings, bold, but contained in the wine. Epic in every sense. Has its place. It tilts your arm. It's huge. It's got drinkability. It's roars from the glass. Keep up with Duck if you can.
Tasted : JUN15
Alcohol : 16.4%
Price : $350
Closure : Screwcap
Drink : 2015 - 2030
Visit winery website
Add to My List