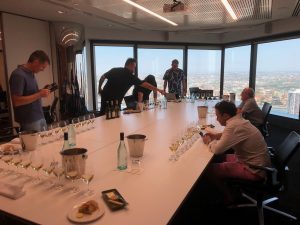 It's hard to believe that another year has passed since the Brisbane tasting panel's December 2017 review of the tWf trio's work on top end Australian Chardonnay (those which scored 96 points or better) but indeed it has. So once again the panel assembled to review the 2018 Chardonnay guidance given by the three Winefront reviewers in 2018 to the tWferati.
Between them CM, GW and MB seemed to undertake a fair amount of globetrotting in 2018 but nevertheless still found time between journeys to proffer the tWferati some guidance on high end Chardonnay. There were some regrettable omissions in the tWf coverage (2016 Deep Woods Reserve Chardonnay, 2017 Flametree SRS Wallcliffe Chardonnay, 2017 Coldstream Hills Reserve Chardonnay, 2016 Oakridge 864 Funder & Diamond Chardonnay, 2017 Penfolds Cellar Reserve Chardonnay, 2016 Handpicked Capella Chardonnay to name a few – all of which were good performers on the circuit of State capital wine shows).
However, this didn't stop us from having plenty of wines to review as can be seen from the list below. In our first Review in 2015 there were 12 Chardonnays to review (rated 96-96+) and we hadn't seen a Winefront 97 pointer for nearly 5 years. This year we had no less than 24 wines which were rated 96 points or better, including three 97 pointers before I closed the list for the tasting about three weeks ago. In the three weeks since the list closed we have already had five Chardonnays score 96 and they will go into the Panels' 2019 tasting.
This year the Panel had the pleasure of having both GW and MB join us for the tasting. This proved highly educational and enabled us to share some of their insights. It was also great to see a couple of wine Professionals in action and to share their perspectives as they took us through their evaluations of each of the various wines.  A bonus and the highlight of the evening for me was a Jura Masterclass which MB conducted at the conclusion of the tasting.
We did not include scores from GW or MB in the tasting results given below – so as to eliminate any element of the tWf reviewers influencing the review of their own work.
Tasted : Dec18
Add to My List