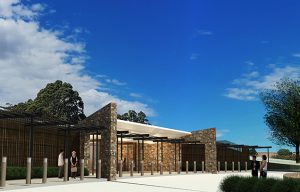 It's a great initiative, and step forward. The Barossa Valley plans to build an independent, globally recognised, regional wine museum.
The Barossa Cellar, as it will be known, has been a dream of (the) Barons of Barossa for many years. With over $2.0M cash, pledges and in-kind donations already 'in the bank', it now looks like becoming a reality.
"The Barons (of the Barossa) already have a significant collection of fine wines from the Barossa and Eden Valleys which has been, and continues to be, generously donated by local wineries," leading Barossa winemaker Louisa Rose said via a media release. "Not only will The Barossa Cellar be a stunning building in which to cellar and showcase this magnificent regional wine collection, but the Barossa Grape & Wine Association (BGWA) has signed a long-term agreement to be the sole tenant of the building. This will ensure The Barossa Cellar is a living, breathing building with a real sense of activity and purpose at the heart of the Barossa grape and wine community. At The Barossa Cellar the Barossa wine community will be able to showcase and educate discerning wine lovers from all over the world about the intricacies of Barossa wine."
It's the kind of thing you'd like to see in all the major wine regions of Australia. Indeed if the Barossa manages to pulls this off, you'd imagine plans will fast be afoot in other regions to follow suit. The Barossa Valley leads the way.
The punchline: "Over the coming months, we need to raise another $2.0M and we are confident that we will be able to begin construction in spring this year," Rose said. "As you can imagine, we still have a lot of work to do to raise these funds and proceed within this timeframe. We are hoping that you will be able to give The Barossa Cellar some positive coverage at the earliest opportunity to help us achieve this goal. Donations can be made online, or by contacting The Barossa Cellar at info@thebarossacellar.com.au." The relevant website here is www.thebarossacellar.com.au
Add to My List