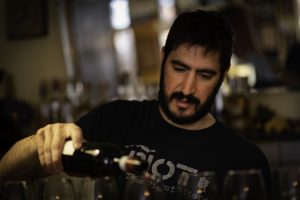 Too bold, too good, too successful; the wild ride that was the Rootstock Sydney Festival has come to an end, and the wine world in its entirety will now be lesser. Today the organisers of Rootstock Sydney announced that "Australia's largest natural wine festival has called last drinks". It had run for five years. It was non profit. It was, incredibly given the mountain of work involved, all done by volunteers. Festivals and all manner of wine events come and go with barely a murmur; Rootstock had a roar going from day one and it showed no signs of being silenced.
All manner of two-bit ideas in wine attract funding; it's a crying shame that some body didn't step in and fund Rootstock to the hilt. Money of course flows in the direction of the compromised, and Rootstock never was that. It was a celebration of the uncompromised. It got up some people's noses as a result. We need more of that, not less.
Rootstock wasn't just a festival; it was a movement.
From the announcement: "Co-founders Giorgio De Maria, Mike Bennie and James Hird announced that the 2017 Rootstock Sydney Festival, held last year, was the fifth and will be the final festival. Unfortunately, this means both Rootstock Sydney and Rootstock Tokyo, both slated for November 2018, will not go ahead.
"Rootstock Sydney has been running since 2013. In this time, the trio and their army of amazing volunteers have given Australia something incredibly special. The festival has shone a spotlight on natural wine culture and sustainability, both here and abroad, and has helped shift the thinking regarding notions of wine and food in Australia indelibly. They leave behind an indelible mark, not only on the Australian wine community, but the international wine community.
"In creating this festival, the trio, along with Matt Young and Linda Wiss, helped to put Australia on the 'natural wine' map, bringing wine makers from around the country and the world together. It has become an acknowledgement of our place, culturally, in this incredible movement towards wine made with minimal intervention.
"There are a number of factors behind the decision, a couple of the most poignant are listed below:
As the festival has evolved, so too has the 'natural wine' scene. It has broadened its umbrella, wonderfully, but in some cases nefariously. Philosophically this has led to a discomfort regarding some of the more underhanded elements occurring in natural wine, as marketing potentially overtake its original essence. With an event of this scale, it is difficult to keep all the parties happy (including ourselves!).
A labour of love, the not-for-profit event is an enormous undertaking each and every year. Sadly, despite years of attendance and incredible evolution within the event, there remains a lack of ongoing financial support for the event from both industry and government bodies.
The founders also feel like they have exceeded what they set out to achieve with education, awareness and sharing of culture that surrounds natural wine, concepts of sustainability and understanding of how important provenance and process is in produce. Rootstock Sydney's conclusion comes at a point not only where financial support made the festival difficult, and natural wine has shape-shifted, but on a very positive note, at a natural end-point for its aims and ambitions."
Wine is a better place when its orthodoxies are challenged. We bid Rootstock farewell; we acknowledge the incredible achievement it was and is; we are sad for its passing.
***
Image here is for placement purposes only; it has nothing directly to do with Rootstock itself, other than that it's from a wine bar serving organic wine and delicious food.
Add to My List