McLaren Vale winemaker Tom O'Donnell is on to the wine-in-a-can movement in a big way: big on quality, that is.
Personally I'm not yet at the stage where I'm shopping for wines in a can but I like the idea, like the vessel itself, love the idea of it as a take-on-a-camping-trip essential (lightweight to start, even lighter weight once it's been consumed, and crushable) and of course, in some areas, you can both recycle the can and get a 10-cent-per-can-return-refund. The idea has legs and I suspect it's going to work, or I hope it does anyway.
O'Donnell's brand is called Riot Wine Co. There's a sauvignon blanc, a fizz, and a Rose for now, though other wines will be added to the range soon. I've just tasted the 2017 Riot Rose – it's made using McLaren Vale (80%) grenache and sangiovese, and it's good. Over to O'Donnell:
"With both the tap and can game – I am a believer that you have to start with the end in mind. You can always spot a wine that wasn't intended for its closure of format.
"With this in mind I utilised some of my old mates that grew awesome grenache in McLaren Vale. I wanted to make this wine pretty, floral, dry – and most importantly hugely drinkable! My winemaking style for this wine was simple – keep the florals of the grenache, build texture with time on lees, and let the sangiovese give line and length.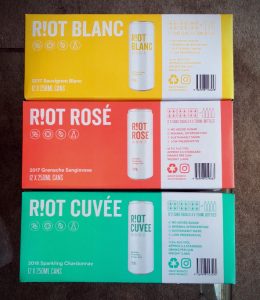 "Only 2 hours on skins and a super cool ferment on full lees. All natural acid. It's such an anaerobic environment in can, not even any UV sees the wine until you pour it in glass – this is amazing for the freshness of the wine. It also means we only need about half the amount of SO2 to traditional bottled wine."
O'Donnell mentions that he's been working on getting wine into can over a period of years; it's a well thought out venture.
The wine: I like it, and quite a lot. It's incredibly juicy and deliciously floral. It's a jubey style but it finishes dry. It feels real, and it drinks to perfection. It's 12.5% alc, no added acid, sealed fresh in a can. In the right setting I'd be all over drinking this.
Price details: it's sold in cases of 12 (3×4 packs), at $84.99 per 12 pack. Each can is 250ml. That works out at around $7 per 250ml can. I asked re availability and O'Donnell replied that it's "being sold in both wine retailers and on premise accounts on the east coast and SA".
Interesting endeavour. The wine tastes decent.
Alcohol : 12.5%
Closure : Screwcap
Drink : 2018 - 2019
Visit winery website
Add to My List