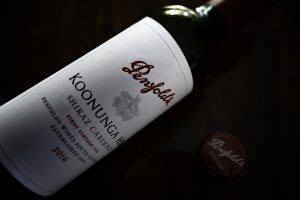 It's hard to know where to start. Australian wine company Penfolds today jumped the biggest of sharks: it will from now on be a global wine producer rather than merely a global wine brand.
From now on, starting as soon as possible, Penfolds will source and make wine out of both the Napa Valley in California, USA and out of Champagne, France. Ford Motor Company, eat your heart out.
The announcements do not stop there. Penfolds has also announced a new range: Penfolds Special Bottlings. The first of these will be:
 • Lot. 1990 – a Pot Distilled 28 year old Single Batch Brandy, available from today 
• Lot. 518 is a Spirited Wine – a premium fortified Barossa Shiraz (94%) enlivened with Baijiu; scheduled for release in September 2018 
• Champagne, expected to be released in calendar year 2019 – in time for the celebration of Penfolds 175th anniversary year 
Penfolds Chief Winemaker Peter Gago said in an embargoed press statement: "The Penfolds winemaking team is delighted to engage in a profound expansion of our core range, while preserving Penfolds DNA and at the same time, building upon the creativity, ingenuity and boldness of our winemaking ancestry. This will broaden our base and help future-proof Penfolds." 
Treasury Wine Estate (TWE) Chief Marketing Officer, Michelle Terry said: "Today represents a significant leap forward for Penfolds … These extensions will consolidate Penfolds as a luxury brand that transcends beyond its existing sourcing regions and categories; positioning it for its next chapter." 
Corporate wine statements are not usually worth the screens they are displayed on. Today's statements, although dripping with corporate nonsense, are so full of intent that they pretty much demand to be shared.
TWE's Chief Executive Officer, Michael Clarke: "Today's news on Penfolds signifies another important step on Treasury Wine Estates' journey to invest in and build true trust marks; expanding the Penfolds stable to include brandy, spirited wine and multi-country sourcing. Innovation of this nature plays a critical role in driving long term, sustainable growth for the Company as we broaden brand appeal and offerings to consumers around the world. Multi-region and multi-country sourcing brings excitement and energy into established brands and at the same time, strengthens TWE's ability to deliver consistent, quality wine year on year; regardless of vintage variation. What we have announced for Penfolds is just the start of a much larger agenda we have to deliver continued growth." 
—
Visit winery website
Add to My List