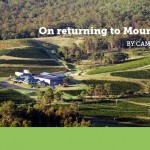 THERE COMES A moment in the life of a winery when it's time to turn for home. At the end of the journey the truth always lies within. The Mount Pleasant winery, its vines tended each season and its grapes fretted into buckets each summer over the past one hundred and thirty-three years, has seen common seductions over the past many decades and fallen for them all. The mullet of oak, the flare of alcohol, its eyes turned to the bling the industry bestows more than to itself. "It breaks my heart to say it," I heard myself saying a few years ago when a wine enthusiast from foreign shores asked which Hunter Valley wineries to visit, his time poor, "but if you're really pressed, don't bother with Mount Pleasant."
This, Mount Pleasant, a giant of Australian terroir. This, Mount Pleasant, a place I hold dear.
There's an inevitability to the growing of great wine. An irresistible momentum. A few years ago I was talking to Stephen Henschke and he said, Come over and see Hill of Grace being picked and crushed.
How can we arrange it?
I'll book you some flights this week.
We were a few months out from harvest. But how will you know when you're picking? I asked.
Because we've been picking them for a long time, he said, and the dates change but the Hill of Grace grapes are always picked at Easter.
Mount Pleasant lost its momentum a long time ago. Fashion clouded the fact but only for so long. It's not that the wines at Mount Pleasant have been bad. Far from it. Many of its wines over the past few decades, here and elsewhere, have been highly rated and regarded. But they've been slaves rather than the salves they were born to be. We should now be turning back in their favour, as we have been to Tyrrell's so thoroughly in recent years. But would you find a Mount Pleasant red wine on a leading wine list anywhere in the country? And does Mount Pleasant ever nowadays win new friends and influence people?
The thing about fashion is that it's a clock. It's ticking makes you hurry. As if it's a chase. Makes you keep looking over your shoulder and over the books to see if you've cashed in.
But Mount Pleasant, at its magical best, is all in the lay of the land. Pick its best vineyards straight into the bottle and history comes to it.
Enter Jim Chatto.
He's the new head honcho of the winemaking team. There have only been three others in the role since 1921.
Rarely has a new winemaker come so well prepared.
His appointment as the Mount's new chief winemaker and the way he speaks about it and the look in his eye, the excitement, it sends goosebumps. All the wild wonder.
It hasn't come from nowhere. Jim's head was turned twenty years ago by a Mount Pleasant Lovedale Semillon. The 1984, the first of the modern Lovedales. He's been keeping a close eye on the Lovedale vineyard almost ever since, jumping the fence numerous times each season, and setting picking regimes – different to the current – along the way.
On his first day at the winery a few months back he declassified Lovedale Semillon 2012. When you know, you know.
"I am the luckiest winemaker in the country. I'm like a kid in a lolly shop with this. It's so exciting."
And then – you can sense the vineyard pricking up its ears – "There's no trickery in the Hunter. The climate dictates the wine styles. I love the honesty of that."
We stand at the top of the Old Hill with the steep grand sweep played out before us. "It sends a shiver down your spine thinking exactly how hard it was to work these vineyards and make the wines back when O'Shea was doing it. I know how hard it was because I've got a hillside vineyard in Tasmania that we work by hand. It's back-breaking stuff. But this place. Imagine."
"There's a lot of good work to be done making wine across the McWilliam's group and I'm excited by that. But Mount Pleasant is why I'm here. This is what it is all about."
You can feel the place stirring. This is the line over which all is different.
WHEN JIM Chatto was a kid in primary school he came to the Hunter Valley and did an assignment on the place. His dad is a long time lover of Mount Pleasant reds. Thank God I can stop drinking that Pepper Tree stuff and get back to drinking Mount Pleasant, his dad now jokes, referring to Jim's former role as chief winemaker at Pepper Tree. A bit harsh toward Pepper Tree's gear, which is excellent, but as funny as it is instructive. Jim Chatto was brought up to respect Mount Pleasant.
Jim's dad is a noted chef with a history of culinary initiative. In fact Jim comes from a family of chefs. There was a bloke used to work at Mount Pleasant, way back, surname O'Shea, who helped start the NSW Wine & Food Society. He was president of the Newcastle branch. And known as a wonderful cook. Jim's more than a dab hand around the stoves too. The vineyards here are accustomed to saying, Yes Chef.
In fact Jim has been reading through some old Mount Pleasant and O'Shea archives he's uncovered. He's also had the privilege of tasting a succession of old O'Shea wines as a winemaker in the valley, where his wines are appropriately revered, and has been an administrator of the Len Evans Tutorial, where O'Shea wines can be showcased. The past is the only foreign country a winemaker must essentially visit.
I say to Jim that the wines of O'Shea are old, very old, but they still have a lot to say about what they were, and what they are. "They absolutely do," he agrees. You get the feeling Jim has spent years mapping in his head the flavours and lines and shapes of what this place grows.
"The most exciting aspect of my move to Mount Pleasant is the opportunity to be part of something really important in the world of wine."
Jim is a noted wine show judge but he's not so easily straight-jacketed. He loves making both pinot noir and cabernet, shiraz with years of oak-knowledge and shiraz left to itself. He grows pinot noir himself, still, in the extreme south of the country, in southern Tasmania, but champions it in the Hunter Valley too. And that wine he first fell in love with, the unoaked 1984 Lovedale Semillon? "It was a wine pinged at wine shows for high VA. It's wasn't a wine for the wine chemists. But as it aged it really shone, and went on to build a stellar wine show history. It's interesting."
"I'm a great believer in 'in balance young, in balance old'.
The great Australian irony, circa 2013: many of the oldest Australian wineries, tired from an extended battle for relevancy, look at the fresh young names in Australian wine with a sense of envy. The crazy stuff they can do. The sexy new audiences they attract. The eternal appeal of the young and the new. And yet away from it all the new dudes peer back at all that ridgy didge history and the old vineyards and blocks and presses and weird blended-away varieties and think; how much would I love to take a crack at that!
Roll on the changes, the re-invention, the blast back to the past. Let's crank Mount Pleasant up.
"In five years' time, I would like Mount Pleasant to be recognised … not only for the classics, but also as a progressive leader of quality and style in the region. I have no illusions; it will take me that long to explore and understand the vineyards, in order to best translate their greatness into the bottle."
To wit:
* They are planting pinot noir at Mount Pleasant. Planting it. In the warm-to-hot-humid Hunter Valley. Ripping out tyrian and replacing it with pinot. Before the tyrian went in, the block they're planting the new pinot noir in was the best pinot from the property – but Hunter pinot was on the nose. It's returning.
* The merlot's being ripped out, and new varieties from the Iberian peninsula trialled. Plus sagrantino.
* Winemaking experiments are back in vogue at Mount Pleasant for the first time since Halliday was a boy. Visit the cellar door and you'll soon find small run experiments under a new B Side label. If they work, they're headed for the main range. O'Shea was nothing if not a restless winemaker. Restlessness is go.
* Jim wants to make RF wines (re-ferment) and CF wines (co-ferment). Shiraz montils. As O'Shea did.
"All the capex is going into the vineyard, which is how it should be. Though I do want some more fermenters. I want to keep everything separate," Jim says.
* There's a block at Mount Pleasant planted by O'Shea in his first days at the estate. It has a planting date of 1920, and it's the oldest vines dug into the ground by him. It could become an individual block wine.
* Charles 'Old Hill' Shiraz, Richard 'Old Paddock' Shiraz, Robert 'Rosehill' Shiraz, Mountain A Full Bodied Red, Mountain D, Mountain C, etc. Classics of the past? Stay tuned.
* 100% Lovedale. White. Field blend. Semillon, verdelho, chardonnay. Not yet named. "Was made in secret by Gwen (Olsen) last year and the vineyard manager without anyone knowing about it. And I really like that attitude. Sees some skin contact but future releases will see more of that." Grip and interest. Smoky. Was put into old, old oak with some lees stirring. Was all about vineyard and texture.
* Hunting wines from the Mount Pleasant estate holdings but also from around the district.
Yes.
Finally fixing O'Shea Shiraz the hell up?
Chatto: "O'Shea shiraz will be the least oak-influenced wine of the Mount Pleasant reds. And it will include pinot noir."
Read it and weep.
Abandon all disillusionment, ye who enter here. Mount Pleasant is finally going home. To where the good things are. And have been all along.
Add to My List