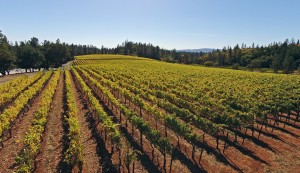 Decanter magazine reported of the 1984 Californian harvest, "This was one of those rare too good to be true vintages that was big in size and ranged from good to excellent in quality. The harvest was early due to a hot spell that kicked it off and a long period warm weather followed to keep harvesters busy. The Cabernets responded by offering generous highly concentrated flavours, and high tannin levels. Even by California standards, the wines were huge, powerful and ultra-ripe. Even the best were rich in tannin but were balanced well enough to age for two decades".
It's a little while longer than those two decades, but San Francisco-based wine consultant, Australian wine troubadour, unofficial San Francisco wine community concierge and general bon vivant, Chuck Hayward, dug into his cellar for a celebration of mature Cali cab. Before my time of drinking, per se, but the parallels between California's and Australia's trajectory in the sect of grand marque producers of cabernet is interesting.
Ranging from 12.5% alcohol to 13.5%, this was a suite of wines that spoke loudly about a time before the Parkerisation of many of these wines and styles, much akin to some of the shift in Australia. Indeed, the return to such modesty in flavour and lower alcohols in our current landscape is seen in the 'new wave' sect of winemaking rejecting the bolder styles of an era. It's fascinating to see, and indeed, this was a remarkable tasting that reminded me of similar one undertaken in Yarra Valley earlier this year, alongside some 80/90s Coonawarra wines I was privy to late last year. A generation ago the low alcohol/vin de garde mentality was in full swing, then came the thrust of power and presence, now the quiet revolution of drinkability and freshness… but we know this.
These wines were in cracking form, tasted over and around a lazy lunch in the stellar Tartine Manufactory in Mission district, SF. It's not every day you see Ridge, Fisher, Heitz, Montalena, Joseph Phelps Backus Vineyard and Dunn, with maturity, side by side…
1984 Ridge Montebello Cabernet Sauvignon (12.9%) – There's 7% merlot in the mix here, though the wine isn't showing a whisper of plummy fruit from it's influence. Ridge '84 opens with old leather, a touch of old Pendleton blanket, secondary notes of warm brown spice, sweet earth, suggestions of dried red berries and stewed cherries. It's comely. The palate is kirsch and savoury spiced, speckled with clove, set on a fine sheet of tannins and perky with cool acidity. Remarkably fresh feeling to taste, long, sleek, mature, stately, fantastic. 95 points
1984 Fisher Vineyards Coach Insignia Cabernet Sauvignon (13%) – More in the brooding, leathery, earthy, fully secondary spectrum, quite punchy in its personality, a groove of coffee ground flecked, dusty wine staining the palate. Scents of roasted coffee, ripe blackberries, old leather and compost.Hints of roast capsicum and green herbs. Bonox and dark fruits to taste, finishing like a Turkish coffee's last sip. It's in its twilight. 90 points
1984 Heitz Cellar Martha's Vineyard Cabernet Sauvignon (13.5%) – The wine was bottle in 1988. This grew and grew in the glass; was a double-take on opening for bottle issues, but that was poor first judgement. Quite rich, very savoury, dusty tannins giving chomp and chew amongst beef stock and deep, dark black berry fruit flavours. Brambles rolling through, mocha and coffee grounds through the finish. Good shape, nice spice, sumptuous yet controlled feel. Quite something. 94 points
1984 Joseph Phelps Vineyards Backus Vineyard Cabernet Sauvignon (13.1%) – Muscular, dolled up wine showing good form for maturity. Sweet earth, stewed berries, Vegemite, old spice cupboard scents with whiffs of beef stock and old leather. Fleshy textured, a plastic surgeon's scalpel slice of sweet wood, quite tannic in feel, but ripe, sweet fruit remnants do a good job of balancing. Tacky-feeling finish of sweet-ripe fruits. Charm here. 93 points
1984 Chateau Montalena Cabernet Sauvignon (13.5%) – This was a wine I drank half a glass of, beyond curio, into drinking zone. Opens with 'old wine' edifice of boot polish, Bonox, bitumen and dark, stewed fruit aromas, showing whiffs of Xmas pudding and dark chocolate too. Appeal. Palate echoes the bouquet in its dark, ripe berry fruit character, offers some pepper and stewed rhubarb-esque flavours, rolls deep and mouth-filling on suede tannins. Punchy, younger than expected feel, with power on its side. 94 points
1984 Dunn Vineyards Howell Mountain Cabernet Sauvignon (13%) – A tour de force of superb, elderly wine. Smoke and leather, dark berry fruit and coffee grounds, but amongst the secondary and tertiary character a smoke signal of blueberries, Italianate green herbs, fennel and briar. Floods the senses with its volume of bouquet, finds amplitude in the palate in dark fruits, spice, earthiness, yet contained in a web of very firm tannin and lifting acidity. Controlled, powerful, dense yet elegant old wine here. 95 points
Beauty in decay.
Add to My List