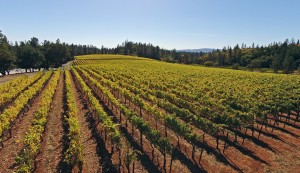 Decanter magazine reported of the 1984 Californian harvest, "This was one of those rare too good to be true vintages that was big in size and ranged from good to excellent in quality. The harvest was early due to a hot spell that kicked it off and a long period warm weather followed to keep harvesters busy. The Cabernets responded by offering generous highly concentrated flavours, and high tannin levels. Even by California standards, the wines were huge, powerful and ultra-ripe. Even the best were rich in tannin but were balanced well enough to age for two decades".
It's a little while longer than those two decades, but San Francisco-based wine consultant, Australian wine troubadour, unofficial San Francisco wine community concierge and general bon vivant, Chuck Hayward, dug into his cellar for a celebration of mature Cali cab. Before my time of drinking, per se, but the parallels between California's and Australia's trajectory in the sect of grand marque producers of cabernet is interesting.
Ranging from 12.5% alcohol to 13.5%, this was a suite of wines that spoke loudly about a time before the Parkerisation of many of these wines and styles, much akin to some of the shift in Australia. Indeed, the return to such modesty in flavour and lower alcohols in our current landscape is seen in the 'new wave' sect of winemaking rejecting the bolder styles of an era. It's fascinating to see, and indeed, this was a remarkable tasting that reminded me of similar one undertaken in Yarra Valley earlier this year, alongside some 80/90s Coonawarra wines I was privy to late last year. A generation ago the low alcohol/vin de garde mentality was in full swing, then came the thrust of power and presence, now the quiet revolution of drinkability and freshness… but we know this.
These wines were in cracking form, tasted over and around a lazy lunch in the stellar Tartine Manufactory in Mission district, SF. It's not every day you see Ridge, Fisher, Heitz, Montalena, Joseph Phelps Backus Vineyard and Dunn, with maturity, side by side…
Add to My List