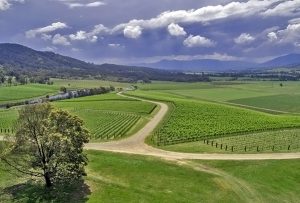 It was the best of stories. It was the worst of stories. Thousand Candles launched with a grand vision and an even grander vineyard and the perfect team of people to execute it.
It had a beautifully-designed label, the hottest winemaker in the country at the time – Bill Downie – and a viticulturist as part of its central frame. It also had moneyed backing, via a silent international investor. We should or at least could be sitting here now marvelling at the unfolding beauty of it all. We should or at least could be sitting here now saying: that's how you launch an elite wine brand.
But three vintages in – 2011, 2012 and 2013 – and somehow the conversation around Thousand Candles was about everything other than the wine or, even, the vineyard. It was about price, and value, and exclusivity, and jousting sticks, and Vinomofo, and a few other things besides. It wasn't a glowing, curious or edifying conversation. It was a conversation rich in snark, from all sides.
Much had gone right, but more had gone wrong. Or so was the perception.
Wine is many different things to many different people, but essentially it's about getting wine into people's mouths, into their hearts, and into their collections. Thousand Candles struggled at best on all three fronts. Given the quality of the vineyard, the people and the wines this was a terrible result.
Which is why, now, when the brains of the vineyard – Stuart Proud – puts a bottle of Thousand Candles mark II on the table he does so with these all-important words.
'This is our apology wine,' he says. And that's all he says. And that's all that need be said.
It's $32. The label looks great. It's called Gathering Field. It comes off the best blocks of this great vineyard. And it tastes bloody terrific.
Yes, $32.
Thousand Candles, welcome, it's great to see you, I think there's been a misunderstanding.
'The way we see it,' Stuart Proud says, 'we have this amazing vineyard, we're managing it honestly, and all we're trying to do with it is nurse it into the bottle.'
And really, if you missed it along the way, this is an incredible vineyard. It is the heart of the Yarra Valley, in many ways. It's part of the old Syme empire. It is 1000 prime acres, over hill and down dale, from the flatlands along its Yarra River frontage on and up through the hills. Anyone who knows anything about the Yarra Valley knows just how good this vineyard is: as Thousand Candles struggled for the right kind of traction over the last handful of years, no less than 17 other Yarra Valley wineries came knocking, with chequebooks open, to buy grapes from it.
Two green sheds. The Thousand Candles operation is a spread of vineyards and just two old green farming sheds. That's it. No fancy buildings or cellars or restaurants or assorted Mercedes magnets. This is a Cult of the Vineyard place.
And it's a vineyard getting better by the year. Since Stuart Proud took its management over in late 2010 he's farmed it biologically – similar to biodynamics save for more bullshit and less bulldust. The place teems with life. It's unkempt in a beautiful way. There are old vines, new vines, close-planted sections, experiments, wonder. Down one side of the farm there's a fence to keep out the deer that come roaming out of the bush. Its effect is limited. 'We call this part of the vineyard The Deer Restaurant,' Stuart quips.
There's a wine brand name of the future, I think to myself.
The number of wineries now buying grapes from Thousand Candles has been whittled, deliberately, down to ten or thereabouts. Truth is that Thousand Candles has copped flack on one hand, and built the reputation of its 'competitors' on the other. Thousand Candles is now taking some of that kudos back to its rightful owner.
Bill Downie has left the enterprise to focus on his own pursuits. 'He's a great mate of mine and always will be,' Stuart says. 'We now employ three viticulturists, and no winemakers.'
It's inadvertent and accidental and it's a shame how it all panned out. But out of defeat has sprung victory. The wines off this great vineyard have been handed over to the people who work it. Stuart Proud, the man who grows the wines, is now making the wines.
'Bill made the wines with zero intervention. I'll make them with minimal intervention,' Stuart says.
And what wines he's making. The new 2016 Gathering Field Pinot Noir set me back on my heels, but having spent an hour or so tasting through various barrel samples I'm quite certain that even better is to come. Shiraz, cabernet sauvignon, merlot, cabernet franc and pinot noir from 2017 all look stunning. Stunning. The vineyard writ large; oak a long way back.
When you taste these wines you appreciate exactly how frustrating the past handful of years must have been.
The place is good. The wines are good. The conversation wasn't. It's now been changed.
Now is the time to get on.
Add to My List