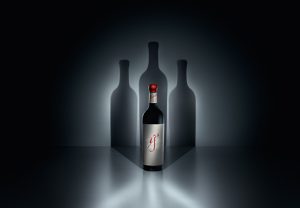 It's not so much three bottles of Grange for the price of one as one bottle of Grange for the price of three. It's a blend of Australia's most famous blend. It's an NV red wine, in a heavy bottle, for $3000 a pop. Everything about it is wrong save for three things: rarity, prestige, and (no small thing) the taste of it.
It's called Penfolds G3. It's shorthand for three vintages of Grange, in a single 750ml bottle, blended and released as one. This first version – not released until next year (2018) – is a blend of Grange from the 2008, 2012 and 2014 vintages. It tastes of everything and nothing. In the words of Penfolds chief winemaker Peter Gago, "Put simply it's Penfolds 'House Style' distilled … Penfolds G3 is a natural end result of the venerated art of blending. It is a blend where each individual vintage selected delivers a depth of character and flavour honouring our flagship Grange."
1200 bottles will be released. No magnums or larger formats have been made. It will not be released annually and no set date has been set for the next release – which may well depend on market reaction to this first one. In terms of logistics: the 2008 Grange was in bottle, so it had to be taken out of bottle and back into barrel to be matured along with the 2012 and 2014. If there are future releases then, of course, they will be matured together rather than coming ex-bottle. Percentages of each year haven't been released but, accordingly to Gago, "It's not equal percentages but there's a significant percentage of each year represented."
"It's not just a gimmick. It's a blend of blends. It's a very, very real and very, very simple process. It's 100% winemaker driven – it didn't come out of the marketing department."
According to Penfolds: "Each Grange vintage component selected to make this wine brings something different to the final blend. Broadly: Grange 2008 is a big bold wine, Grange 2012 is about elegance and sophistication, while 2014 is a young wine that serves to 'freshen up the blend'."
The wine prompts the immediate reaction: for $3000 you could buy three or four vintages of Grange and, if you really wished, make up a blend yourself. Not only would this be more economical, it would be a more interesting experience/exercise for a wine lover. Penfolds is – kind of – one step ahead. "You can't recreate this at home because these three vintages of Grange haven't just been blended; they've been matured together," says Gago.
That's unlikely to pass the pub test (not exactly G3's target demographic) but the key factor will be whether it passes the investment/auction test. The key ingredient is just how powerful the "1200 bottles only" factor proves. Penfolds G3 would have been more interesting, even compelling, had it been released at $1000 per bottle rather than at $3000 but then, the rich and powerful need something rich and powerful to spend their money on, so maybe that would have been throwing easy money away.
Price : $1200
Closure : Cork
Visit winery website
Add to My List