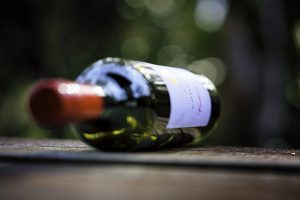 It doesn't happen every day. Indeed it's only happened a few times in the 16 year history of The Winefront, and two of those times it happened because of the same source. A wine was flicked my way, by post, off the bat of a subscriber. No affiliations, no barrows, just a wine lover who thought I should see a particular wine, and so ponied up for both a bottle and for the postage, and also went to the bother of getting down to the post office. The first time he did this is part of The Winefront history. It was for this wine here, back in late 2002.
Geoff Garratt is the man. Not only is he still up to the same remarkable tricks, but as far as I know he's remained a loyal subscriber for 16 years. It's a long time. Much water has passed. We're all different people now. Wine continues to unite us.
The wine he sent me, recently-ish, is a cellared bottle of Coonawarra Cabernet Sauvignon. Let me quote part of the email Geoff sent me: "Mildara Coonawarra 2004 Cabernet (never reviewed on TWF). With a couple of hours air time this, to me, is what special Cabernet represents, with years ahead of it. I'd love to see what you thought of it. A casualty of the ridiculous bean-counters, I grabbed 4 dozen from First Choice way back when for a remarkable $12.50 landed."
$12.50 landed. Four dozen. A 14 year old wine, now. This is what it's all about.
I didn't check, but I now have. Halliday's view of it. He gave it 92 points, with a drinking end date of 2015.
Talking of Halliday, I contributed to his tasting team this summer past. It's a most unpleasant task, physically and mentally, mostly because of the volume of wines tasted and the 7-day-a-week-over-months nature of it, but also because it involves large numbers of heavy red wine, all to be tasted at the height of summer. Forty cabernets when it's 40 degrees – it might sound like fun to you but to me: I lost nearly ten percent of my body weight during this year's tasting, which isn't/wasn't mandatory or directly related but something has to give. I mention this because Geoff sent me this cabernet during this period, and outside of his extreme generosity I didn't really feel like facing another cabernet. I would have been happy to smash it up against a brick wall, and give the bird to Len Evans as I did so.
And yet.
Talking of Len Evans, the wisest thing I ever heard him say was this. Never Take It Out On The Wine.
We often land at a wine with so many screws and skews twisting through our heads, maybe positive, maybe negative, just so much noise, oh the noise. Balloons, itches, angers and puff. Whatever. It's so much harder to park yourself at the cork, or the cap, or the stopper than it is to hate a wine before you've even tasted it. Earmuffs and blindfolds are the most common couture at a wine opening.
The point: the wine in the glass doesn't know any of that; it doesn't know any better. Leave it alone, give it a chance, brilliance can soar from a slum.
And then. An unloved cabernet, from a big bastard company, its drinking window shut for all time, opened up and danced, like an old couple re-living the night of their lives in a just-lit dance hall on a Saturday.
Blow me down. On Facebook at the moment I'm seeing lots of close-up photographs of exotic fungi. This wine didn't taste like mushrooms, but it had that extra-sense to it, that point between horehound and mint, as if decay could blow a fresh new breath and be vital again. Pouring a glass was like the dawn of a new age, where the old tasted new; tobacco leaves from so long ago, smoked in oak and cured in blackcurrant and alcohol, had transformed into something only possible with the passing of time and the obliteration of prejudice.
$12.50 per bottle. Four dozen. Sold at a supermarket.
The easiest thing to do in life is to blow out the highlights. That's a semi-cryptic thing to say, but semi-cryptic, like mystery, like having to damn well wait for something to be ready in its own good time, has its place in the world.
I'm not at home right now, I'm on the road, and so I can't see the empty bottle of Mildara Cabernet Sauvignon 2004, which sits on my desk and will do for some time. It's a reminder, of sorts. They tell you a lot of things. But beauty is rarely the hell where they tell you it is.
Alcohol : 14.5%
Closure : Screwcap
Visit winery website
Add to My List