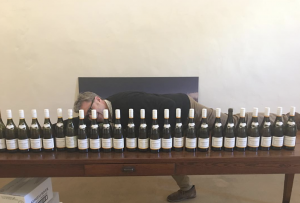 It feels like a very long time since June 2018, but the extraordinary tasting made available to GW and I rings loud in the cloister of the wine brain. Visiting Kumeu Estate is of course formative for the New Zealand wine enthusiast, and an exceptional opportunity to get a feel for history coupled to an arc of increasing quality – this idea extrapolates across the whole of the New Zealand wine community, but its writ large in the vineyards, cellar door, winery and the Brajkovich people of Kumeu.
The encroachment of Auckland's urban sprawl highlights the tussle between farming pioneers and modernity. Listening to the Brajkovich's speak of rolling farmland and agrarian life comes with a strong sense of nostalgia. Kit homes and townhouses, snakes of traffic on roads not quite capable of keeping up with the spread of metropolis, vineyard and farming land being eaten up by bulldozer hulks, speak loudly of Kumeu's new neighbourhood. That being said, the vineyards of Kumeu Estate stand sentry – precious plots of once aspirational growth now landmark for New Zealand wine, and beacons in this shape-shifting landscape.
Chardonnay is the life blood of Kumeu. Or so it is written. An almost unswerving quality with distinct sheen and transparency, an able match of gentle winemaking overlay, but a commitment to a 'house style'. It's been like this since 1983, though the family's vineyard presence stretches back to a small plot purchased in 1944. We saw our way back to mid 2000s from 2017. A glorious suite of wines. Here's the findings:
+ Kumeu Village Chardonnay – from a collection of vineyards, fermented in old French oak (mostly) with a portion in stainless steel.
2017: This is 20% Hawkes Bay fruit and 80% from around Kumeu itself (various vineyards). Bright and fresh style here, light on but extends flavours well. Stone fruits and green apples, squeaky texture, exceptional length. Extension of flavour is outstanding, let's visit that thought again. Very delicious. 92 points, 2018-2022
+ Kumeu River Estate Chardonnay – despite the name, this is a wine born from six vineyard sites, brought together as a whole 'Kumeu expression'. Naturally fermented in barrel, with the whole lot going through malolactic fermentation, then matured for 11 months before bottling.
2017: Around 20% new French oak used here. Whiffs of flint, green apple, touches of nougat and marzipan. Lean and yet flavoursome wine, compact and precise, great velocity in this wine, set around green apple, plupy grapfruit fruit characters and flint-like mineral vein. 95 points, 2018-2030
2016: Slightly warmer year. Silky, fleshier wine, yet holds a firm, fine friskiness despite the somewhat more generous feel. Light green apple and honeysuckle scents, touches of flint and wet slate too. Similar to taste, soft with a spicy, peppery, slate-like finish. Lot of mineral inflection through this wine. Fine wine here. 93 points, 2018-2025
2014: 'Just perfect really, everything went right, was even easy to pick – Michael like using the word 'generous' regarding chardonnay from the season', says Paul Brajkovich. Has some glossiness to texture but still holds good shape and the hallmark mineral-slate-flint thing that Kumeu gets going. Nougat and toast in bouquet, ripe citrus, lemongrass spice, ginger and apple. Palate does well doubling up on the perfume too.The softness is appealing in texture, but the freshness holds too. Just lovely. 93 points, 2018-2027
2010: Really good summer then a spring frost, the yield was therefore reduced. Potent chardonnay shows full flavour, thrust of ripe apple, ginger biscuits, rolled oats, slippery texture but still holds licks of flint and spice. Ample as it is, it still holds very fresh, precise acidity in the centre and sense of minerality is writ large. Quite a lot of preserved lemon character, with a sort of tannin profile too. Outstanding here. 94 points, 2018-2025
2006: Very good year, similar to 2014, clean, ripe fruit in good volume, easy to pick and work with. Ideal. Rich lemon curd, butter, toast, honey characters in the bouquet. Fleshy texture, ample, honey-lemon-tea feel, barley sugar water, yet the finish is still piercing with acidity. Generous, mellowing chardonnay, with beautiful decay present. 90 points, 2018-2022
2004: This wine still had Coddington and Hunting Hill vineyards as components in the wine. Golden coloured, and a sense of 'golden' in perfume and flavours too. Soft, supple texture, honey, toast, ginger tea scents. Acidity keeps the wine fresh and lively, though texture is all softness and silk. Richness and a sense of freshness. Geez, impressive. 93 points, 2018-2020
+ Kumeu River Coddington Chardonnay – Coddington Vineyard was part of the make-up of estate wines until 2006. The site typically produces a sense of 'ripeness' from its chardonnay expressions.
2017: Coddington is produced as per Estate just with a bit more new oak. Concentrated perfume shows lemon oil, faint flint and slate notes, peach and stone fruit notes, big volume of scent. Flavour is stacked too, peach/nectarine notes, tropcial almost, good flinty character, spice, and dialed up fruitiness. You'd say powerful but it's not over the top. Very well done. 93 points, 2018-2030
2016: Warmer, more generous year. From 2015 on the vineyard has been under management of Kumeu River. Strong perfume of stone fruits, honeysuckle, hay, lemongrass and ginger. Palate is quite apple-y, potent, full, yet has a superb chalkiness through mid palate to finish. Fresh. It's got concentration, drive and lift in spades. It's a pretty epic, powerful style, but not over done. Quality plus. 94 points, 2018-2028
2014: Near perfect year for chardonnay grapes here! Lemon balm, green apples, slate notes, green herbs, very fresh scented. Palate is lively, shows green apple, licks of ginger, some flint and chalk-like mineral character, and yet there's great power and depth here too. Impossibly fresh feeling. Very good wine. 94 points, 2018-2030
2011: Showing some gold in colour now. Honey notes, touches of toast and ripe apple, a good dose of stone fruits, peachy, and sweet spice. You could say a lot going on. Has some smoky-mushroomy funk in amongst ripe apple, but again the limey acidity pierces and keeps things fresh and lively. Honey and chalk to finish, as unusual as that sounds, but is fantastic. Great wine. 93 points, 2018-2025
2010: Rich, generous chardonnay, slick with secondary characters, honeyed notes, brulee and oatmeal. Flavours are full, flush, ample, but with freshness on their side and a chew of chalk and pepper to finish. Really lovely, vibrant, maturing wine here. 92 points, 2018-2024
2007: Buttered toast, honey, ripe apples, ripe citrus scents. Supple, full flavoured white here – honey, sweet spice, apple pie, lime curd. It's full and maturing and delicious. A coup. 92 points, 2018-2020
+ Kumeu River Hunting Hill Chardonnay – Overlooking Mate's Vineyard, Hunting Hill was planted in 1982 and formed the basis for the original Kumeu River chardonnay wines. It has been replanted in 2000, and gives life to this wine.
2017: Sweet stone fruit, green apple, faint flint, talc. Beautiful entrée. Palate is succulent, lemon and green apple character rich, bright acidity underlying with flinty elements coursing. It's got precision and concentration too. Serious feeling chardonnay. 94 points, 2018-2030+
2016: Green apple, sweet talc notes, lemon, citrus rind, wet slate. Palate is inwardly concentrated, charged with tangy-minerally acidity, assertive through the palate, flecked with vibrant mineral charm. Serious chardonnay with intent, drive and character. Very good. 94 points, 2018-2030
2014: Ripe apple, ripe citrus scents, tutti-fruitti notes, green herbs, faint pepper and sweet talc. Good perfume. Palate has concentration, velocity. Juiciness seems a good word but the flinty, chalky things going on are nice too. Feels good, this. 92 points, 2018-2026
2011: Ripe citrus, green apple, honey notes, a good scene for maturing wine. Palate has a little cracked honeycomb character nicely woven to lime and green apple. Licks of green herbs in the mix too. Vibrant finish. This feels really good to drink right now. 93 points, 2018-2022
2010: Green apple, honey notes, touches of ginger, faint tasty notes. Good sluice of honey on apple flavours, quite powerful core of minerally-feeling freshness with some Parisian almond sweet nuttiness in tow. Lovely wine this, assertive yet mellowing hand in hand. Yes thanks. 94 points, 2018-2021
2007: Honey-lemon tea scents, ginger, ripe apple. Good start. Palate has relative freshness for maturity, crisp chalky texture, honey on apple, nougat, toast. Exceptional length and flavour. Excellent, matured wine here. 92 points, 2018-2020
+ Kumeu River Maté's Chardonnay – Steeped in history, this vineyard was replanted in 1990 on the original vineyard site that was itself planted in 1944. It's all Mendoza clone chardonnay now. A significant site for chardonnay anywhere on earth. The wines, as is near uniform, are naturally fermented in barrel, go through malolactic fermentation, and are left to rest there for 11 months. These wines get the most new oak at 30%.
2017: Lemon-lime notes, pear, red apple, green herbs, flint. Good start. Chalky, edgy palate with incredibly precise mouthfeel and vigorous chalky-flinty feel. Lots of nougat and then there's faint honey too. Really asserts its presence, feels fancy, powerful, true. Complex, powerful, incredibly vibrant wine here. 95+ points, 2018-2030+
2016: Honeysuckle, peach, pear, sweeter lifted perfume, very fresh, a touch floral, just gorgeous. Juicy, bright, flavoursome, fresh, apples and pears, flint, honeycomb – a good time all round. Good length and intensity, vibrant, really delicious. Really shows well. 94 points, 2018-2030
2014: Lemon balm, honey tea, ripe pear scents, ginger. Palate has a good sloshy feel to it, with fine, chalky interior, great freshness, a flinty finish and some almond savouriness in tow. Parisian almonds. Something there. Impeccable. Such finesse. So fine. So pent up and precise. Excellent wine. 95 points, 2018-2030
2011: Sweet spice, ginger, ripe apple, faint pear, touches of brulee. Fantastic perfume. Juicy and generous to taste but with great cut of acidity and a fine, flinty, chalky mineral undertow. Ultra vibrant, quitely powerful, assertive and drives so well across the palate. Stands out. 94 points, 2018-2025
2010: Honey, toast, lemon-ginger tea, faint salted caramel scents. Oily in the palate, but you could say silky too. Honey-lemon tea, lemon barley sugar water, not sweet, but loaded with character, and the finish is so fresh. 93 points, 2018-2022
2007: Honey tea, ginger, ripe apple, crème caramel, curiously fresh for a mature wine. Crackles in the palate, slightly sour-sweet character, cracked honeycomb, ripe apple. Lovely softness yet has freshness too. Curious thing. And done well. 93 points, 2018-2020
Many thanks to the Brajkovich family for their times, wines, and incredible wood-fired steak lunch!
Tasted : JUN18
Closure : Screwcap
Add to My List