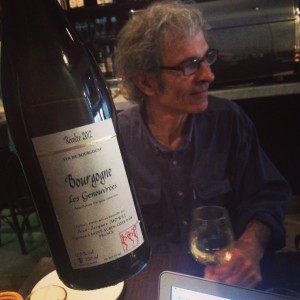 Jean Jacques Morel
The littlest producer in Burgundy. These are blisteringly good wines.
'I am not the master of the grapes, there is alchemy here'.
Born in Paris, Jean-Jacques Morel didn't come from wine or viticulture, instead spending years in different parts of France where he applied himself to a broad spectrum of 'trades'.
There's a professorial and artistic wildness to Morel. An expressiveness, gesticulation and languid phrases that paint broader pictures than winemaking technicalities or viticulture methodology.
He tried psychology, and one year English in University, then finally went away to Oregon state in the US of A, where he stayed for one and half years. Here he was planting trees in a rural association, but itchy feet drove him across the country by bus. A drifter, but with a keen mind and a sense of undertaking, he took inspiration from chance meetings, gathering intel on the breadth of the world, human condition, the curious, the strange, the inspiring, 'I can appear as someone very lonely, inside loneliness, but I am very social'.
Morel's journey took him from Oregon and to San Francisco. It was 1982 and Morel was living in a forest, from here, his journey turned to Mexico in 1983, and then he returned to France and Aix en Provence, 'I finally decided, because I met a girl, a theatre actress, that I would go to Paris for her, for her work, and up there I began to work for people a little firm, doing interior decorating, three years later I decided with two other guys to create a little firm of interior design, not only creating ideas, but practical. Five years later we decided with my almost wife, we decided to quit Paris, and her parents were living in Burgundy, so we went to Burgundy'. The Kerouac-like adventure physically halted here.
'We were in Burgundy, first in the south of Burgundy – this was 1989. We tried to open a wine bar but it failed. Then I was always working during the day in the countryside and looking at the vineyards and thinking I would like to put my feet down on the soil of the vineyards', explains Morel.
'I met some decent people working on vineyards so I asked for little jobs, and began to learn on the field, and when I feel it quite important for myself to understand more, I just registered to some courses, to learn official theory, but it was too conventional, quite hard to ask questions about organics and the like, so I had to read a lot of books', Morel continues, 'then I started to meet people using organic or BD principles, and I finished the course, and I got a job on a domaine in Pouilly Fuisse, and I stayed four years, until my father in law proposed that I take back some vineyards of his'.
JJ Morel started to take shape. Morel's father-in-law had vineyards but was not working on them and had rented them to others, he gave Morel the opportunity to work on his land, 'it was time to work on my ideas, my thoughts, the way I wanted to'.
Morel explains that his first forays into the his own wine were with of a vision of classic Burgundy, the genteel, the elegant, 'but I was and still am interested in wine that does not follow a line, I like even now very curious wines, I like to be amazed by wine, I am not sure I am always amazed with my wines, but that's why I very much like to taste wine from everywhere', states Morel.
Morel's exploration of Burgundy showed him there were many possibilities, that toeing the gentleman farmer route could be side-lined, 'I saw so many with all the techniques possible, but people were going in train tracks. I began to meet some BD producers, like Derain in St Aubin, and he became a good friend quite quickly because we talk a lot and I appreciate his sense of humour, black humour, but I appreciate his way to look at the vineyard, to look feel the wine, and it takes what I got in my heart or mind about wine, and about grapes and he takes with a little bit out of me about what I feel about wine and vineyard', says Morel.
'But I was sure I didn't want to go on tracks even BD tracks, I can understand the philosophy of BD, I agree absolutely, but I think I prefer to adopt the solution the less struggle as possible. I don't want to fight, I want to understand why these symptoms are appearing and why. I am not religious absolutely not, but I am always amazed with what nature provides us, and for me, provides my wine'.
In 1996 Morel was working in Pouilly Fuisse, in 1999 he went to Saint Aubin to work on another domaine. Then in 1999 Morel's father-in-law permitted him to plant two vineyards, the first in 2000 and the second in 2001, both in Saint Aubin.
The journey continued with the reclaiming of a Puligny Montrachet vineyard in 2003. His buddy Derain also hooked him up with a farmer neighbour who was about to retire; the JJ Morel wine stable began to appear.
From here, Morel began to wield his influence on the sites, growing grasses between rows, then taking it to the next level, 'I like the vineyard to look like a garden, but a non monoculture garden, so now I pick some salad from the vineyard as an example, not every part of the year, but there is great diversity here', Morel explains. And for all the sites, there is of course no irrigation.
One of smallest producers in Burgundy at a tiny 6000-7000 bottles a year (530-odd cases), Morel spent one week in Australia during and around the Rootstock Sydney festival, and says with punitive feel 'so I will spend the rest of the year working in the vineyards. Some periods I am really tired, because I have to wake up early and work from 4 or 5 am and working to 930/10 pm in the evening, like in Spring, but its only physically tiring, the rest of it invigorates me'.
For me, JJ Morel is one of the most exciting producers in Burgundy. They are insanely good wines. The volumes say a lot about his intent on quality production – he simply can't produce more with his low yields, small plots and painstaking attention to detail.
Evocative wines, idiosyncratic and delicious. An open book. A travelogue and an expressionist's painting. It's all there.
Morel sums it up nicely, 'to be real, I don't make wine. In French, I don't use the term winemaker, I say vigneron. The man who tries to catch the essence'.
Price : $90
Closure : Cork
Add to My List