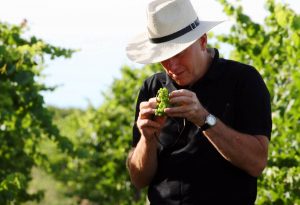 Earlier in 2017, Jeffrey Grosset hosted an intimate session showcasing current releases and a slew of back vintage wine. The presentation was accompanied by some candid home snaps and a detailed explanation of sites and vintages, but perhaps most telling was the candid home pictures, included one of Grosset in his first, own winery, bearded, in a hip looking (by today's standards) flannel shirt, standing lonesome in a beaten up shed amongst a flotsam and jetsam of tanks and ad hoc winemaking equipment. How history repeats.
Grosset's back story is well documented, but I love hearing about his rapid, youthful rise through big company winemaking, before braving his own project, and setting about realising his vision for the pinnacle of Australian riesling. He now farms all his vineyards organically (certified) and the winemaking is resolutely focussed on consistency of quality. Here's how the land lay from this tasting –
Grosset Springvale Riesling –
2017: Quite a delicate expression but not without drive, energy and velocity. It's pretty in floral notes, lime-lime blossom scents, a touch of flinty mineral character. Quite succulent, just a kiss of flinty-chalkiness to texture, bristling with tangy acidity, long, fine, and elegant feeling. A little out of step for typical Springvale, but delightful in its way. Crackling mineral character throughout. Crystalline, classy riesling. 94 points, 2017-2030+
2011: Quite awesome power of acidity despite the open weave of the wine. Citrus, touch of honeycomb, slightly waxy scents. Lime tang in palate, mineral water, inward coil of piercing acidity. Fierce and mouthwatering in the best possible sense. Some wateriness in feel, but that kind of helps drinkability too. 92 points. 2017-2025
2006: Honeycomb, toast, just suggestions of development without going whole hog. Intense acidity, chalkiness, fine boned, picking up flavour development but also holding purity, shape and etch of chalky fringes. Really like this. 94 points, 2017-2026+
2005: Toasty, honeycomb, brown sugar scents, has good show of maturity in bouquet. Palate has softened up, spreading in palate, supple lime juice character, apparent mature sweetness characters, cracking a touch. It's pleasurable, but perhaps showing its time. That being said, acidity is brisk through it all, so should live a while longer. 2017-2023
2002: Cool vintage, often regarded as one of Grosset's greatest – Quince, key lime pie, pretty floral scents, just a toucb of honeyed maturity. Fine boned, sleek, honey on lime characters, touch of minerality and flint. Gorgeous flood of riesling freshness yet the kiss of secondary character in good stead. Wonderful wine here. 95 points, 2017-2027+
Grosset Polish Hill Riesling –
That awesome picture of Grosset's riesling bunches circulated around the internet a while back – it showed Springvale as a more generous sized bunch, looser knit, with bigger grapes, and Polish Hill a meaner looking, smaller version of the same. Said a lot with little.
2017: Intensely aromatic, floral and citrusy, so fragrant, like a posy of flowers or pot pourri. Wonderful. Quite surprisingly delicate in the palate, sure, there's stacks of inward intensity, the finest yet firmest thread of acid through the core of citrus juice, minerals and green apple crunch. Pretty darn impressive here. Watch it fly. 95 points. 2017-2035+
2012: Gangly, crunchy, knees and elbows here, but in that middle ground of riesling's maturity. The piercing acidity doesn't let up, it's the best feature, mouthwatering and star bright. I like the length here too. Work in progress. 93+ points. 2017-2030+
2011: Showing some honeycomb, toasty development character, touch of quince and brown lime but loads of fresh feeling citrus and green apple. Succulent in the palate, a touch edgy in its composition, zingy in acid. It feels good to drink, great even. It's a live-wire. 93 points. 2017-2025+
2006: Honeycomb, toast, brown lime. Really pretty scents. Soft texture, touch of opulence. Brisk and cracking and crackling. Mouthwatering, inward conentration, piercing. Fiesty wine of immense power and snap-to-attention tension. Pretty epic. 96 points. 2017-2030+
2005: Touch of honey drizzled on apple, green lime, kaffir lime and sniff of ginger. Succulent in the palate, richness of maturity building, fine boned though, mouthwatering. Has a serious feel, yet drinkability is high. It's in a magnificent place right now. 95 points. 2017-2027+
2001: Honey, touch of butter, flint and lime. Juicy in the palate, supple, showing some breadth and a touch of flabby butteriness to the wine (which some will like, no doubt). Quite tight through the finish, despite the upfront generosity. A touch saggy. It's ok. 88 points. 2017-2020
2000: Golden syrup, ripe citrus, brown lime, old flowers in perfume. Intensity in the palate, firm even, drive and freshness, extract, citrusy and yet generous. Super attractive wine, almost in stasis. So fresh for its years. Brilliant. 95 points. 2017-2022
Grosset Gaia Cabernet –
An isolated site, tucked into a small amphitheatre amongst farmland and thatches of gum trees. A higher point in the Clare Valley too. Planted 1986. Grosset aimed for the highest point in Clare based on consideration of elegance but also climate change potential. Warm region, cooler site.
2014: Choc-berry scents, sniff of twiggy oak, clove spice, black olive and anise. Palate is supple, generous in dark fruit character, licked with more black olive and fennel/liquorice characters. A spread of warm fruit and spice. It's a totally lovely feel here. Generous and lively cabernet. 94 points. 2017-2030+
2013: Smoke and flint notes, some old barrel smells, dark berries, mocha, choc-cherry. Generous perfume. Palate is a firm, medium weight, lightly chewy in tannin, dark berried, slightly earthy. Savoury, fine, understated wine. 93 points. 2017-2033+
2012: First impression shows green olive, gum leaf, black cherry/plum and cedary spicy oak overlay. Palate is fine, medium weight, stretches luxuriously but with trim, firm feel. Succulence in texture. So fine. Extreme elegance here, if such a thing exists. 95 points. 2017-2033+
2004: Tomato leaf, red plum scents, sweet earth and black olive. Good maturing cabernet perfume. A touch washed out, though tannins whip the palate to pucker and acidity has a spritely edge. It's in an ok place, but likely drink now. 90 points. 2017-2020
2003: Dark, dusty fruit characters, dried olive, garrigue, Bonox. Palate runs a similar course, sinewy tannins, chewy-firm but not altogether pleasing. Stretched out. It's probably time to drink up. 88 points. 2017-2019
2002: Wonderful perfume, black jelly bean, cedar, faint wood smoke, black plum, dried olive. Supple, succulent feel, luxurious, trimmed with fine tannins, lightly spiced, svelte and fine boned. Dark fruits, masses of flavour yet trimmed and tucked neatly. Wonderful. 92 points. 2017-2024
Thanks to Jeff Grosset et al for the opportunity to taste these wines, and for insights alongside.
Add to My List