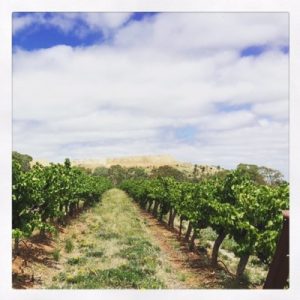 There are all manner of groups and initiatives that have proposed a collective yet individual approach to a winemaking schemata, but by my reckoning none so far where a single vineyard of grenache has been explored through the lens of six, diverse winemakers. There was the grenache-focussed McLaren Vale 'Cadenzia' program some ten years ago, but that didn't look at a single site, more a regional exploration of grenache wines. You could argue that the multiple bottlings from Ricca Terra Farms, Chalmers Heathcote vineyard or something like the suite of nebbiolos off Malakoff vineyard are less structured investigation of multiple expressions from site, but this Grenache Project comes as a single six pack, from a single vintage, from a single site – narrow bandwidth. It's a strong PR move for Artisans of Barossa first, of course.
The vineyard in question is Quarry Hill vineyard in Angaston. It was planted in 1971 and vines are dry grown on red clay over limestone soils. Yields are typically low, though some of the six wine producers involved in the project decided to drop yields even lower. By chance, or by organisation, the same picking date was used by all; a 'late-ish' 21st of March.
The winemakers in question are a who's who of modern Barossa, with the Hobbs family (Hobbs), John Duval (John Duval Wines), Jaysen Collins (Massena), Jason Schwarz (Schwarz Wine Co.), Corey Ryan and Simon Cowham (Sons of Eden) and Peter Schell (Spinifex), involved.
The wines were tasted blind, aside John Duval's as the screwcap had broken glass off the lip of the bottle, with shattered glass in the screw also found under the cap. The wines and winemaking were as follows:
Tasted : JAN18
Alcohol : 14.5%
Price : $250
Closure : Screwcap
Visit winery website
Add to My List