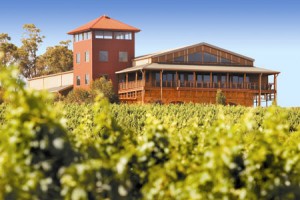 Late April is a pretty good time to visit Great Southern – take a road trip from Perth, eat deep fried cheese and chicken sausages at the local service stations on the way down. It's a pretty temperate place, the beaches are great, the scenery idyllic, the distances oppressive for wine tourism. But worthwhile nonetheless.
I had selfishly arranged to taste a selection of wines (riesling and shiraz only) to try and distil and crystallise what has been happening in the area over the past few vintages. Shiraz and riesling were chosen because, well, why not? They have played to strengths and riesling certainly first captured the collective attention – a good yardstick, not everything could have been tasted and when most are bringing their 'best wines' to a media tasting it's a level playing field if the scope is narrowed. True grit.
I get to taste a fair number of the wines represented from the region, but it's a great thing to sit down in situ, taste a heap, then use the vineyards, wineries and people as touchstones. Little did I know that I was in for a real treat – the wines submitted came with winemakers. They joined in the tasting. A seriously amazing opportunity.
So 12 or so winemakers sat around a table in a local watering hole and tasted a series of wines blind, discussed, commented and ribbed each other. We were kicked off by Lee Haselgrove of Forest Hill pronouncing on the 2011 vintage, 'it was a very dry winter and spring, but temperatures were around mean for 2011. January rain helped a lot of us, we were really struggling because it was so dry, hence we've had a pretty strong vintage for riesling'. The drought conditions and general dryness of the region are marked, the landscape given only small flourish by greenery. Martin Cooper of Xabregas wines chimed in, 'for me what was most noticeable was the intensity, ripeness and acid. It's all amped up but good acid, and we got good flavour; a little bit more of everything', so he states.
A cacophony and some quips, 2010 was a strong red vintage, stronger than 2009, but there has been a divergence in style. Frankland, Mount Barker, Porongorup, have presented very differently, and divergence of style should be marked from 2011. The other general agreement was that the regional has been playing to its strengths with, as some winemaker chimed in, 'amazing vintages since 2007'. 'But watch this space with shiraz, it's one of those things', punctuates Cooper. For Vanessa Carson at Frankland Estate she says, we've had a cracker vintage 2011, only issue was labour, it all (fruit) seemed to come in at once'.
Great Southern, collectively, is one of the fastest growing regions in Australia. With that in mind it's interesting to see some new producers front up with wines for this tasting. Redmond Sweeney from Snake + Herring is an affable guy, good with a joke and pretty keen on getting his booze message out there. 'Traditionally speaking riesling and shiraz (and chard and cab) have shined from the Great Southern. When you talk about message it's really important to talk about the right message – for us, it's about a seriously good grape growing region that gives us deeper, more concentrated spectrum of flavours than many others, but with medium bodied appeal in reds and great freshness in whites', he says.
The shiraz from the region are distinct, albeit in a unique spectrum – it should be qualified that because the size of the region is vast, there doesn't seem to be quite the postcode one expects, particularly again with the diversity of sites that fruit is grown. Sweeney states 'I think the most important message is how distinct they are in general. They are mostly medium bodied, show black and white pepper, lovely spice. What were seeing today are those hallmarks of what distinguishes those great southern shiraz, but also there is diversity under the whole umbrella'. Yin and yang.
Hunter Smith from Frankland Estate, talks about their on-going interests, 'we are pretty passionately pursuing organics for some time, but we haven't made it a vocal point. We have changed some winemaking in response to this, for a while we were pushing higher alcohols, but we see that though they carried weight, they fell over, but through our change in viticulture we have seen a rise in core fruit quality, and as a result seeing better balance, in the glass. Hence, our good story is now about minimalism, balance'. Smith qualifies for the broader table, 'not a lot of us are hiding behind too much winery work now, this is what we are. This is Great Southern shiraz, it has beautiful weight, nice oak balance is key, here are a range of very smart wines'.
Another interesting aspect of the tasting were the youthful attendees. The Great Southern Twelve (or s0) were on the whole of a younger generation, and indeed in the case of Rob Diletti from Castle Rock, second generation Great Southern. Young people are coming to the region to make wine, bringing a wealth of different experience and some creative direction. Cue, winemaker Andries Mostert who has plied his trade all over, but settled on Great Southern, 'I had the opportunity to jump into Willoughby [Park Winery] and Kalgan [Estate], after my first foray through Plantagenet. It was exciting for me to be initially working with probably one of the best known brands for shiraz for the region, and shiraz really excites me in the region. There is such diversity from Mt Barker, Albany, Porongorup particularly, I see a range of medium bodied, stylish spicy wines'.
Andrew Hoadley of Castelli and La Violetta has the feel of a young Turk in an tall frame; he seems to be doing some of the most alternative thinking in winemaking from the region, not content with traditional winemaking and pushing some interesting buttons. 'Depth but concentration without over working shiraz. That's what I like. Powerful character but not with the hallmarks of over worked wines. Not exaggerated. Syrah I do in a lot of small batches, some wild fermentation, some whole bunch, some viognier when you can get it, and all open ferment'. His work with riesling, wild ferment and oak handling is intriguing too.
To the tasting of Great Southern current (and some back release) wines from late April 2012. All wines were tasted blind, in small brackets, discussed across the table, then revealed. Tasting as follows:
*** RIESLING ***
Xabregas Estate Riesling 2011: Very ripe and floral aromas, ripe stone fruits, tropical, quince. Rose water. Has a sweet tinge, mango skin-like appeal. Higher RS here it seems, some judicious botrytis? oily/ juicy, soft acidity, great length and intensity, tangy citrus acidity to close, brisk clip to finish. Soft mid-palate, gentle, slightly too ripe feel, but you get past it. Chalky phenolic bite neat to see. 92 points
Alkoomi Riesling 2011: Talc, mineral, brine influence in bouquet, steely notes, pithy/green notes, high toned florals, pretty perfume here. Very fine citrus driven flavours, some glassy acidity for texture, moreish, mouthwatering acid profile, great length and penetration, tangy lime-juice finish. Brisk but layered feel, a nicely composed wine. 92 points
Kalgan River Riesling 2011: Some botrytis? Judicious if it has, shows stewed apples, marmalade kind of aroma amongst florals, wet stone, dried flowers. Very fine and brisk in the palate, lemony/lime fruit profile, Thai spice and ginger in the mid palate and finish. Steely, tight, linear acidity. Great length of flavour. Fine and mouthwatering style, with clip of richness and slipperyness. 91 points
Kerrigan + Berry Riesling 2011: Soapy, candlewax aromas. Lemon/lime, orange zest, stone fruits. Waxy texture to palate, fine acidity, prickly with a kick of spice and slatey, stony finish. A little lighter in flavour and length, slightly sour. Simple, jangly, nervous. Should mellow into a more complete wine. Very classic GS wine with linearity and soft acidity. Blink and you miss. 89 points
Snake & Herring Teardrop Riesling 2011: Slightly soapy, slightly green character to wine, wet asphalt, stony, sandalwoody. Tinny, tangy palate, it's slender, lean and pure of fruit with green edged acidity. Very brisk and crisp. Sour to finish but has a neat, fine line of acidity way late into the mouth. Classic GS with briny tang throughout. 90 points
Ferngrove Cossack Reisling 2011: Pong! Not all bad, but a curious aromatic profile to the wine with pink grapefruit, jelly beans and minty candy cane. Durian exotica, feijoa exotica. Sweet/sour thing going on with disjointed feel. Slick up front then thin and lean at back palate. Scarred. Has some appeal, but looks a little unusual in this current incarnation. 86 points
Castelli Porongurup Riesling 2011: Mellow honeycomb and mixed peel kind of aromas, touch developed but not untoward, rich textural feel in the palate, some tangy, tinny acidity underlaid. Has some brisk, refreshing qualities – a little jangly and nervous right now, but that ain't bad. Showing great length and fine focus of acid line, and feels like it gets some winery work – hence there is softness to fruit character and that kiss of mellow fruitiness giving character to the wine. Complex and intriguing. 94 points
Willoughby Park Riesling 2011: High toned botrytis characters? Wet stone, dish water, dried blossoms, honey aromas lead into a slippery, textural wine. Some unusual exotic fruit and spice characters and interesting richness with buzzy acidity to close and some chalky phenoic character. An odd ball, but not untoward. 86 points
Frankland Estate Isolation Ridge 2011: Sea air and lemon soap aromas. Talc, tangy little number, citrus driven with lime leaf and Thai spice lifting. Has some richness, just edges of it in the palate with slick yet tangy, tightly wound feel. Steely, linear, pure, tight – intense, complex. A little jagged with acidity, but pretty and refreshing in style. 91 points
Snake & Herring High & Dry Riesling 2011: Richer aromas, honeycomb, faintly waxy, slightly developed, good aromas though, touch of sweetness. Very juicy, richer style of riesling, mellow, honeysuckle tinges but still soft, bright acidity and a faintly talc-like mineral line. Phenolics judicious and adding crunch. Frisky. 93 points
Frankland Estate Netley Road Riesling 2011: Honeysuckle, florals, ginger. Spicy entry to wine with gently honeyed tinges. Bright fruit still, mixed peel, richer flavours, thicker acidity, intense, coiled but complex and layered. Great length of flavour and penetration, finishes slightly briny. Super. 93 points
West Cape Howe Riesling 2011: Mellowed, developed aromas, honeyed, then slightly minty. Soft acidity. Some bright flavour but a touch thin and lacking cohesion. Tired? Has some ripeness and a touch of breadth. Still, can't fault acid line, but seems slightly underripe and sallow. 86 points
La Violetta das Sakrileg Riesling 2011: Floral, resiny element, banana skins, faintly oaky, candlewax lift. Big aromatic profile. Dig it. Intensity in the palate with thick, glassy acidity.  Has some supple sweetness, complex, layered and with a gentle acid line. So much amazing texture and detail here. Good length too. Flavoursome style, very exotic, complex, intriguing. 93 points
Xabregas Spencer Riesling 2011: Lemon/lime aromas, ginger, peppery,talc, lifted pure and clean, faintly smoky. Very intense and coiled riesling, steely acidity but super length. Brisk, crisp. Linear. Mixed peel and green apple, chalky clip. Such purity. Simple and bright. Delicious, mouthwatering back palate acidity. Living wine. Tang and pucker. 93 points
Castle Rock Estate Riesling 2011: Green pea, peppery, steely, chalky, waxy. Lemony, tangy, brisk very fine line, coiled, tight and prickly. Neat and tidy, textural. Great back palate acidity. Mouthwatering. Bright and frisky style. Delightful, but a touch of underripeness? Not sure, but styled for linear appeal. Some ageing appeal too. 93 points
Forest Hill Block 1 Riesling 2009: Honeycomb, waxy, touch of green peppers, loose knit, chewy phenolics, tiring a tad? Maybe not, as adroit breadth feels good and the touch of brine in the acid profile keeps zing in the wine. Exotic feel, but just losing some traction with compaction and tension. Green tea tannins give stricture. Great texture lifts feel – an intellectual yet delicious tussle. 92 points
Castle Rock Estate A & W Reserve Riesling 2010: Talc, chalk, tangy citrus characters, mineral driven bouquet with stony feel. Brisk palate, some gentle textural lilt, super acid line, length and brightness, yet shows a glassy, complex kind of feel. Light, lithe, supple. Touch of honeyed sweetness. Lots going on here – plenty of solids in ferment. 92 points
Ferngrove Cossack Riesling 2006: Waxy notes, steely aromas, linear, tight palate with dip in rear but showing judicious and appealing development. Still, shows a great focus and intensity, finesse and brisk, crisp line through age. Eye of needle acid line yet a plusher textural feel. Touch briny with ultra fresh and youthful appeal. Just a kiss of development showing complexity and interest. Yep. 91 points
Forest Hill Block 1 Riesling 2007: Smoky, leafy aromas with sweaty ginger, citrus rind lift. Palate has richness, some phenolic grip, faint bergamot and charcuterie characters, slippery edge but internal coil of acidity. Complex, great layered flavours here. Smiley faces. 93 points
Alkoomi Frankland River Riesling 2006: Honeyed, toasty aromas with caramel edge, creamy textured wine with bright, sprtizy acid sitting in the centre. Ripe stone fruit flavours, structured. Front palate wine. Finishes with briny, crispy tang and frisky freshness. Mellowing, maturing with grace. Delicious. 91 points
*** SHIRAZ ***
Kalgan River Syrah 2010: Reductive, sulphidey notes, brambly, then mocha powder and dense aromas with spicy, earthen vibe. Has a concentrated, intense aromatic profile, then palate of elegance, spice, seamless texture but bound by gritty frame, bergamot tannins, great length and brightness of acidity, feels pretty unadorned and bright. Delicious medium bodied style at play, ferrous personality. 93+ points
Xabregas Estate Syrah 2010: Bright, red and black fruit and brambly, bacon bone ferment/barrel character, slightly herbal. Slick and rich, dense and then restrained with fine boned tannins. Falls a little short and shows some peppery tang, but elevated with grip and tannin to close, with savouriness to boot. Elegant-ish. 90 points
Frankland Estate Smith Cullam Shiraz 2010: Reductive, stoney, earthy, dark fruits and brambles then heaps of cedary sweet oak. Peppery and more savoury aromas. Slick texture upfront, resiny hot oak then dips to tangy acidity and fresh, dark fruited flavours. Spice drives too. Good texture and flavours here, just curious composure. Some depth, but oak prominent here. 89+ points
Castelli Frankland River Shiraz 2010: Earthern, savoury, spicy aromas – briary, undergrowth, meaty complexity too. Dark and red berry fruits, great attack then building gravelly tannic grip to close, but a bit of dry shutdown finishes. Layered flavours, spice, concentration, density – calling cards. Elegant, medium bodied appeal, with grunt. Age worthy; needs some time to bring the package together. 91 points
Xabregas Figtree Syrah 2010: Herbal elements in earthen, mangrove/swampy notes, dark berry fruits too. Plush, juicy palate with dense, chewy feel then a light, short finish. Feels a bit all-upfront without finesse, but some easygoing appeal. Has slick and ripeness, then long, interesting sour cherry kind of finish. Medicinal funk – touch of kilter? Interesting wine. 91 points
Alkoomi Shiraz Viognier 2010: Chalky, meaty, terracotta dust aromas. Savoury. Meaty. Big flavour in the palate, sweaty, bacon bone. Short and sour here, cherry elixir, minty. Sandy tannins. Lacking. Simple. 84 points
Kalgan River Shiraz Viognier 2010: Oak derived aromas, some reductive funk and concrete/stony complexity. Very cool, slippery textured and fine; feels pretty cool in terms of fruit and alpine spice, touch minty. A great drink and fantastic medium bodied gently peppery wine, though is thinning. Pretty old school kind of feel, touch of sweetness, some pepper. Composed in its own way. 88 points
Ferngrove Dragon Shiraz 2009: Smoky, earthen aromas, savoury, red fruits, brambly, manurey, drives with bright fruit flavours in palate and fine, spicy oak sits in the glass with sweet sawdusty complexity and punches out a seamless, whipping tail of pure, big fruit. Elegance and class feel, but not a lot of extra dimension. 89 points
West Cape Howe Two Steps Shiraz 2009: Smoky notes, riper fruit, red fruits spice/pepper matrix, mocha choc characters too. Palate is spicy, juicy fruited, touch of sour acidity but keeps the wine fresh and youthful. Great energy here. Touch simpler, but feels unadorned and bright flavoured. 90 points
Frankland Estate Isolation Ridge Shiraz 2009: Choc/mocha aromas. Meaty and rich bouquet. Gravelly and earthy too. Cedar. Bright fruit flavours, framed by spicy oak. Great length but thins out a touch, pretty simple. Feels like it needs some time to fit its frame. Elegant-like experience. 90 points
Castle Rock Estate Shiraz 2009: Earthy, toasty aromas, big dark fruit presence, rich, palate shows concentrated ripe fruit flavours, slick, slippery, racy acidity. Punchy, aggressive, medium bodied wine will appeal to those seeking complex fruitiness and juiciness. Tinny to finish, but does show some elegance. 90 points
La Violetta La Ciornia Shiraz 2008: Reductive, smoky, animale barrel char, juicy, rich, flavour packed. Touch of nervous acidity and again some reductive funk. Tobacco, earth sits throughout the wine. Lots going on but in a slick, slurpy kind of way. Has an animale personality with exotica and ferrousness. Very interesting and expressive. 93 points
Ferngrove Dragon Shiraz 2005: Earthy, savoury, dusty aromas. Spice, pepper, mocha too. Red fruits, brick dust through the mouth with a touch of hessian, but lovely medium bodied savoury approach here. Great length and tang of fresh acidity lifts the wine, it is mellow and maturing well. Secondary that builds the palate. Go now.  93 points
** Thanks to the team from Xabregas for helping facilitate this event
Add to My List