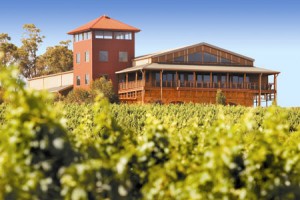 Late April is a pretty good time to visit Great Southern – take a road trip from Perth, eat deep fried cheese and chicken sausages at the local service stations on the way down. It's a pretty temperate place, the beaches are great, the scenery idyllic, the distances oppressive for wine tourism. But worthwhile nonetheless.
I had selfishly arranged to taste a selection of wines (riesling and shiraz only) to try and distil and crystallise what has been happening in the area over the past few vintages. Shiraz and riesling were chosen because, well, why not? They have played to strengths and riesling certainly first captured the collective attention – a good yardstick, not everything could have been tasted and when most are bringing their 'best wines' to a media tasting it's a level playing field if the scope is narrowed. True grit.
I get to taste a fair number of the wines represented from the region, but it's a great thing to sit down in situ, taste a heap, then use the vineyards, wineries and people as touchstones. Little did I know that I was in for a real treat – the wines submitted came with winemakers. They joined in the tasting. A seriously amazing opportunity.
So 12 or so winemakers sat around a table in a local watering hole and tasted a series of wines blind, discussed, commented and ribbed each other. We were kicked off by Lee Haselgrove of Forest Hill pronouncing on the 2011 vintage, 'it was a very dry winter and spring, but temperatures were around mean for 2011. January rain helped a lot of us, we were really struggling because it was so dry, hence we've had a pretty strong vintage for riesling'. The drought conditions and general dryness of the region are marked, the landscape given only small flourish by greenery. Martin Cooper of Xabregas wines chimed in, 'for me what was most noticeable was the intensity, ripeness and acid. It's all amped up but good acid, and we got good flavour; a little bit more of everything', so he states.
A cacophony and some quips, 2010 was a strong red vintage, stronger than 2009, but there has been a divergence in style. Frankland, Mount Barker, Porongorup, have presented very differently, and
Add to My List