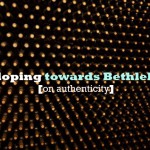 In 2006/2007 I wrote my own piece on "authenticity". It was published in book form, in the context of it being part of "the real story of Australian wine". The word authenticity has gathered much momentum in Australia since – I'm not claiming credit – and so in recent times I've been meaning to go back and read what it was I wrote. Below is a gently updated Author's Cut of this piece.
THE COWS ARE galloping. They're plush black beasts, fifty or so, backs of velvet and faces as cute as a Cuddle Pie bear. They're charging for a gate and if I don't slow they'll crush me. It's a drought. The grass is green and dewy but it's too cold to grow – I'm not getting between them and food. I make to slow down but then a farm hand waves me on and suddenly the black beasts are charging at me like an industry out of control, their master urging them on. For an instant I think they might stampede straight over my car. But they don't – I make it through, the rumble of heavy-hoofed cows galloping through the trail of dust. The farm hand smiles, at the look on my face. City boy scared. Shaken, the dust stirred, I step from my car. I hadn't been looking for it, but I step straight into the future of Australian wine.
I have just arrived at the historic Tahbilk winery in the Nagambie Lakes region of Central Victoria. This winery has been here for 150 years. It's wide open country here, river flats, home to months of settled summer heat offset by small pockets of river-fed cool. I've come to Tahbilk on a whim – I was up at 5am to catch a train. I missed it. I was driving the Hume Highway to Melbourne when I veered in the direction of Tahbilk. I'm in the mood for it: in the foggy tiredness of morning its old barns and old vines and old-fashioned prices are a ride I'm suddenly keen to take.
And when I step through the cellar doors – the smell of dust, of old wine, of no-nonsense – I'm the only one there. It's 9am and they've just opened for the day and the tasting bench is unattended. I go wandering. I read the display of Tahbilk's history: it occurs to me that a lot of people have died on this property. An Aborigine was killed by an American cook here in 1868. Another man died crossing the river in the torrent of 1860. John Bear, the English owner of Tahbilk at the time, died suddenly on the estate in 1889. A worker in the 1970s died after copping a blast of sulphur as he filled wine bottles. Eric Purbrick, another owner – and grandfather of the current chief executive – was run over by a tractor. There's no making this stuff up. If you hang around long enough your story gathers texture, hard and soft.
I've been To Tahbilk a dozen times, maybe two. It's a natural starting point, I would have said before today, for keen Australian wine lovers – lots of inexpensive wine, lots of even-tempered flavours, total non-intimidation and only an hour-and-a-bit's drive from the nearest capital city.
But what really keeps me coming back is a ladder in the cellar door that leads down to the cellars below, and anyone, any time during the day hours, can climb down and wander around unguided. I never try to resist the temptation. This time though, in August 2007, when I climb down into the 1860s cellar something happens – to me. It's like I have entered wine's secret garden.
It's mouldy down there. It's cavernous, with tunnels leading away, huge oak casks of indeterminate age standing like lords of a forgotten wine kingdom – except that, here, they are still in use. One of the casks, its big oval face painted white, is scrawled with chalk: 06 SHIRAZ. I tap a knuckle against it and it speaks with a dull thud; it's not a charade, it's actually full. History alive. I look at the curved roof of the cellar, black, grey and peppered with age.
I am, I realise with a start, standing in what could be called the authentic heart of Australian wine. If there were noise I would tell it now to hush – but there is little. If there were a clock, I would beg it to stop – but, of course, there is none down here, for everything here is timeless.
Tahbilk is big, corporate, family-owned and heartfelt. It goes back and it goes forward. I don't like everything it does and would do things differently if I were at the helm but then, it does things to its own temperament, not mine. As someone once said, What happens if your natural environment is as a stadium rock god? Authentic doesn't have to mean homespun or unplugged. It doesn't start and finish in the pub band room. I once met a winemaker who loved nothing more than to crack a bottle of Maglieri shiraz; it would be ridiculous for such a person, I'd reckon, to start making "natural" wines. Not everything that is authentic tastes or sounds good to you. It's not living a lie, is all.
What soon became clear to me though, as I stood in the caverns of the Tahbilk cellars, is that this place is the book-end to my own wine journey – the one that started at a garish casino a decade ago, and was catapulted by a cabernet that tasted as effortless as it tasted smooth. It is the last stop of a long arc. In the story of Campbell Mattinson BW (Before Wine) there were two books that I re-read each year. One was The Great Gatsby, the other The Catcher in the Rye. The rich longing of Gatsby is everywhere in Australian wine, the urge to aspire and impress and overdo a force to be reckoned with, argued against, and celebrated. The middle road will never do us; we must always be noticed. We are aspirational folk. The best Australian wine makers, wine lovers, and wine media have a tendency to stand like Gatsby at the end of our continent's pier, hoping for a glimpse of Europe, daring it to approve of the splendour in our glass.
The fog lifts, the distractions leave the shore. I stand alone in the Tahbilk cellar and, for the first time, see the part of me that is Holden Caulfield, the character who is The Catcher in the Rye. Somewhere above me they are serving wine. I've been up to my neck in it for so long now, the swirl and the everlasting sniff, an answer hovering but never becoming clear. What I have to do, Holden Caulfield said, is 'catch everybody if they start to go over the cliff – I mean if they're running and they don't look where they're going I have to come out from somewhere and catch them. That's all I'd do all day. I'd just be the catcher in the rye.'
Australian wine has run so fast, barely looking where it is going. The rash of plantings in the late 1990s and at the start of this decade lead to a grape surplus so severe it saw 60,000 tonne of grapes left to rot on the vine in the 2006 vintage. It's lead to millions of litres of wine left to go stale in storage tanks – or pushed out at a fraction of their real worth in cleanskins or casks or, more astutely, via clever operators with brands strong enough to rope the dope's excesses.
We drinkers delight, but the men and women and kids on the land pay, as does the land itself. Whenever I think on the grapes left to rot, or the wine sold for cents, I think of the thousands, or millions, of litres of water poured on them through the growing season – for nothing.
At the other end of the market, in June 2007 the Australian auction website Grays Online listed a massive 55,000 bottles of wine for sale in one hit. All these bottles were from the failed Heritage Fine Wines investment business – which plunged into spectacular liquidation in March 2005. This was the start of the endplay for an awful lot of investors who'd sunk an awful lot of money into an awful lot of wine, most of which wine never stood a hope in hell of ever increasing in value.
The problem, for this investment scheme, was that investors were offered too few of the right wines, too many of the wrong wines, and too much of both of them at too high a price. Between 1999 and 2005 investors pumped a staggering $76 million into Heritage Fine Wines, in the process purchasing an estimated 1.3 million bottles of Australian wine. The effects are now being felt in fine Australian wine: these bottles are now pouring in, auction after auction. There is an old saying in wine: you only have to sell a bottle once. The Heritage saga makes a lie of it. The point to come out of it all: wine is meant to be about wine. The wine investment frenzy was related to wine, but was mostly about greed.
The answer I never knew I was seeking rose then, as I stood in the Tahbilk cellar, like a pure green light: and the answer's name was Authenticity. What has always entranced me about The Catcher's Holden Caulfield character was his hatred of, in his words, 'goddamn phonies'. That phrase is the reason the book has resonated so strongly for nearing five decades. The future of Australian wine is a fight against the goddamn phonies.
The phonies take many forms. It might be the arrogance of the French; the insecurity of an English toff; the imagined superiority of a home-grown snob; the over-produced mimics. We are though – and this is the point to take home – all our own worst enemies; we plant the seeds of our downfall long before it arrives. The buttery chardonnay we sold so well in the 1980s and 90s was a legitimate style for a few, but en masse it did the Australian wine industry damage, a caricature so easy to lampoon. The style itself wasn't phoney, the mimicry of it was. The herb-shot cabernets of the 1980s? Good when an honest reflection of their season, sure, but disastrous when mere imitations of bad Bordeaux reds. As most of them were.
I could go on – we all could. Hunter shiraz slathered in oak, its uniqueness destroyed. Barossa shiraz blistered beyond its beauty, alcohol and oak caked like overdone make-up. We all marvel at the fresh, unaffected face of youth – and wish so hard that we could regain it. Emphasis, please, on the word unaffected. Wine, authentic wine, is a shot at eternal youth.
Two weeks before this visit to Tahbilk, I travelled to Tyrrell's in the Hunter Valley, two hours north-west of Sydney. I had one topic in mind: the Tyrrell's Four Acre shiraz vineyard.
THE TYRRELL'S FOUR ACRE VINEYARD. IT'S THE vineyard you pass as you drive through the front gates and on to the old wooden cellar door. It is a magical sight. It leans away from you, the hill rising left and the vineyard angling right. The vines have been growing there in the lee of the Hunter hills since 1879 – it was planted from vines straight off the boat, cut from the legendary La Chapelle vineyard in France's Rhone Valley. Now cuttings from these vines are heading back to Europe – there was a time long ago when the La Chapelle vineyard was destroyed by disease, and this Hunter Valley vineyard is now viewed as the more authentic source of these very great vines.
Green grass, thick vine trunks, a flush-full dam at the base of the hill. Craggy mountain ranges up the back, dressed in gum and stringybark. The rows of vines are far from straight; the grapes they grow are beautiful. For years these grapes were made into wine and blended along with others – though that's the modern history. Back in times when authenticity was the only thing anyone knew, these grapes were kept snugly together, matured in big old casks and bottled as they were. Maurice O'Shea, of the nearby Mount Pleasant winery, would come visiting, looking for wine to buy, to blend with wines of his that weren't quite right. He'd see this wine, buy it, and bottle it as it was. Some of these bottlings became legends; I once shared a bottle of 1954 Mount Pleasant Richard Hermitage, and thereafter could not sleep. Never underestimate an old wine's ability to haunt you. That Mount Pleasant Richard Hermitage was grown on the Tyrrell's Four Acre vineyard.
This 4-acre vineyard sings its own song. The grapes it grows are larger than you'd expect from old shiraz vines. They grow in red and yellow clay, limestone bedded below. In an era when red Australian wines are routinely found to be between 14.5 and 16 percent alcohol, the three recent vintages of Tyrrell's Four Acre Shiraz, starting with 2004, have been 12.6, 13.3 and 12.3 percent respectively. This vineyard, no matter whether you cut or dice it, wants to grow a lighter, tangier, structured version of Australian shiraz, Burgundian in the way it floats across your tongue. 'The chemistry of these shiraz grapes is like the chemistry of our chardonnay – that's how much natural acidity they have,' Bruce Tyrrell says.
Its grapes are hand-picked, and before the pickers start they are given strict instructions on which grapes to leave on the vine, and which grapes to prize. Any sign of rot, and any sign of shrivel, is prohibited, and discarded. These approved grapes are then placed into wooden fermentation vats, a percentage of grape stalks included in the mix – to help build tannin, and spice, and natural fragrance. The grapes are then allowed to ferment naturally, not a thing added, not a thing rushed.
The grapes take their time. They sit in the wooden vats for a few days, before the process that will turn them into wine slowly, naturally springs to life. The ferment is not artificially controlled; it rises in temperature, and falls in temperature, to its own design. It is plunged by hand, to keep the grape juice and grape skins at one with each other – otherwise the skins all cap on the top. The grapes become wine, and the wine is left until it has fermented completely dry – in the fermenter. Only once it has fermented to dry, and has been left to settle further for a couple of days, is it transferred to oak – large 2500 litre oak barrels. Everything goes in there – the wine, the dead yeast cells, the lot. Bruce Tyrrell explains the process and, half-way through, can't helping joking. 'It's like we're having a mid-life crisis,' he says. 'We're going back to the way we made wine when we were kids.
'The thing I like about doing things this way is that you don't need any instruments to tell you when something is wrong – you can smell it. It's real winemaking.' In keeping with that theme, the Tyrrell's Four Acre Shiraz is given no schedule for bottling – it is only bottled when it is ready.
And when that time comes – it is bottled by hand. 'The accountants looked at this and said, Do you know how much it costs us to bottle by hand?' Bruce says, talking of himself and his winemaking team.
'And we replied, We work here already, so it costs us nothing.' And, of course, they laugh.
The 2007 Tyrrell's Four Acre Shiraz will be released mid-way through 2008. It is the authentic, historic, new way of Australian wine, all in one.
AND, TOO, IT is the way forward for Australian wine. To jump, perhaps, from the sublime to the ridiculous, the thing I love about the Yellow Tail story is that the Casellas, immediately prior to the Yellow Tail boom, were flogging a wine that they now openly refer to as a 'me too' product, the kind of wine they thought they should be making, rather than the wine they are best at. They let down that phony guard, they succumbed to the sweet easy wine they do best, and success followed.
There is no room for "me too" in wine; I don't care who you are. The call for authenticity is applicable to both the biggest and smallest, the quaffer and the quest at greatness. Australia is diverse, Australia is vast, Australia is different in every square mile. Its detractors do cruel it; the only proper response is to put down the winemaking and marketing weapons, and to tell the truth.
If I have any advice for the Australian wine industry, it is simply: make the wines you love to drink, and sell them at the prices you'd love to pay. Far too many producers get both sides of this equation drastically wrong. One of the smartest wine statements I ever heard was uttered by Steve Webber – the current Wine Magazine Winemaker of the Year – chief winemaker at De Bortoli Yarra Valley. Here is a man who has been in senior wine positions for a very long time, and who does drink the best wines of the world on a regular basis. The smart thing he said? 'I'm now happy to drink any of the $14 De Bortoli Windy Peak wines on a daily basis.' That's why they're so good.
Ten years ago the accepted wisdom was that the middle-sized wine families would be the big losers of the new way of wine – the companies that were neither small enough, nor big enough. They were supposed to be caught in no man's land – instead they have thrived. The family companies: Brown Brothers, De Bortoli, McWilliam's, Yalumba, D'Arenberg, Tahbilk, Tyrrell's – are going gangbusters. They are because they make the wines people love to drink, and sell them at the prices people want to pay. This applies to all prices and all styles: no one needs to trade up or trade down, they just need to drink what they love.
Is there anything sadder than someone who, in their day to day life, drinks and buys $20 wine … trying to sell their own wine for $100? Is there anything sadder than someone who only ever drinks Grand Cru Burgundy trying to flog $10 swill? Is there anything sadder than someone growing mean chardonnay in a verdant landscape? Is there anything sadder than a cask drinker being duped into buying "investment wine" they knew nothing about and that was, too often, made exclusively for their deception? Discuss.
The back story of Australian wine is a great long journey, rich in story, scope, fascination and flavour. But the real story of Australian wine is and always will be its struggle against the goddamn phonies. Authenticity, if it has a real meaning, is simply who you are – it is not to be confused with exclusivity, but nor is it afraid to be that. The point is, you and your land could be anyone or anything. Authenticity is not a synonym for "I Like the Taste of it". Nor is it a synonym for fashionable. In writing spheres it's called Finding Your Own Unique Voice, in whatever form or genre that might take. Don't aim for the Miles Franklin literary award if your true love is romance novels. Authentic wine, if it means anything, is about both the temperament of the land and its inhabitants. It's why in Burgundy they chant both terroir terroir terroir and producer producer producer. Nothing about "authenticity" should be prescriptive. It's neither a pissing contest nor a passing contest. Authenticity is merely the name of the street on which the grower and the drinker stop passing one another by, and stop to strike up a conversation.
Add to My List