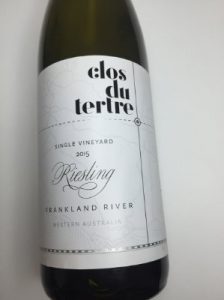 "What a time to be a Riesling drinker, there are so many interesting wines about", such righteous words from grape farmer Lee Haselgrove. I just ran full tilt into that concept in a mere few days in Great Southern, Western Australia. A myriad of styles, from coiled, line and length, searing, ballistic, thread-through-eye-of-needle stuff, right into loose-knit, savoury, brash yet thrilling expressions. The DNA of the broad region rings true – brisk, bright acidity, tension, ability to mature, talc-and-crushed-slate-like minerality. All there. A candid, roundtable, open group tasting occurred on a day there. An echo of a tasting I did several years ago. Wines passed around, a community of winemakers and growers and proprietors sharing intel and wines and intent of their bottled livelihoods. Food, mirth, music, honesty, bare-all commentary and humility. Wonderful stuff. You'd scant get that kind of sharing and caring in the other region down that way, or so it seems at times.
Anyway, here's the bottled magic of dedicated Haselgrove and his alchemist-winemaker wife Clemence. Deep thinkers, meticulous, considered in approach. Clemence won't see white wine to bottle without structure, without tannin, 'there is nothing without this in these wines', she said, 'phenolics give an important frame to the wine'. It ferments wild and slowly, the wine gets some time on lees (a small portion in barrel). The 1980s planted, dry grown vineyard is in charmed hands. The wines should be firmly, firmly on your radar. Etch into stone.
It'll sound twee in some respects as the wine starts with familiarity. Floral characters, pot pourri, green apple, brown limes, slate. The distinction is how much detail seems to be in that layered scent. The palate is brilliant, diamond cut in angles, fine with powdery tannins, so many flavours in a wild spectrum of citrus, apple, herbs, spice, stones. There's slips of flesh in the fine elements here. Succulent, impossibly long, beautiful in its carriage. Unreal.
Tasted : NOV16
Alcohol : 12.5%
Price : $39
Closure : Screwcap
Drink : 2016 - 2030+
Visit winery website
Add to My List