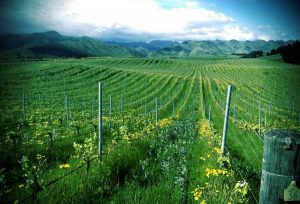 You get the feeling Sam Weaver is tired of the nincompoops.
He was the first to plant a vineyard out in the Omaka Valley though he rightly doesn't like the expression. "If you spend any time in Marlborough you'll hear people talk of the sub-regions. One of them is what they refer to as the 'southern valleys'. As if they're all the same. And as if it's about the valleys. It's not about the valleys, it's about the f-ing hills.

"The other thing people do around here is get their sub-region wrong. They tend to take too much notice of the name of the road they live on. Some wineries say they are in the X valley because they're on the X Rd when really they have nothing to do with that valley."

Sam Weaver is someone all wine lovers need to become familiar with. He takes the neat box of Marlborough and its enormous commercial success and flings it out the window. He owns (with wife Mandy) the vineyard known as Churton. It sits as some kind of heavenly gem on an elevated sprawl of hills; it's a 22 hectare vineyard packed along a ridgeline between the Omaka and Waihopai Valleys. It's close-planted, farmed biodynamically, cut into 18 separate blocks, and planted only to pinot noir, sauvignon blanc, viognier and petit manseng.

It's a place both fastidious and wild.

If there's one thing I enjoy, it's watching a winemaker make coffee. Or tea. Or cook dinner. It always says something about them. Sam Weaver has a collection of stove-top coffee pots of various sizes. Those things invariably produce terrible coffee but they don't have to. Sam makes me a coffee quickly and efficiently and it tastes very good. No fuss, nothing elaborate or flamboyant, but when he hands you a cup it's worth dwelling on.

Hello. This chap knows how to make a drink.

And he makes it from a site vying for the title of The Ultimate Garden Vineyard. Just look at that picture (above). Yellow flowers, beans, crimson clover colouring the vineyard, some of it higher than the low-trellised vines. Hillside. Most of the vineyard is north-east facing. And it was the easterly aspect that was central to the selection of the site. "I don't think we should under-estimate the importance of morning sunlight on pinot noir," Sam says.

In Spring, exclusively, a heavy cover of grass, herb and general green growth between and up against the rows of vines can be a magnet for frost. Growers in all regions are always desperately keen to get everything slashed or sprayed or killed, depending on their favour, before the frost season begins. At Churton in Spring the place is so flush with life and flowers and dynamic green that some of the top leaves of beans and yellow dandelion float higher than the vines themselves. "We're a bit behind with getting this all under control," Sam says, with no real rush or fuss. "All my neighbours have frost fans installed but that's why I chose this site. No frost."

I tune out awhile; blow my own bubbles. I think: A vineyard should be a beautiful place. You should walk into it and be compelled to think how much you'd love to consume its produce. Most days, back in my rural Australian life, I drive past a bare barren farm with Angus and Hereford in their hundreds jam-packed, fattened on grain and no grass on their way to the slaughterhouse. I always think how much I'd hate to eat the sad lives of those poor deprived cows. Drive around Marlborough, as around any wine region, and see vineyard after commercial vineyard with chemicals scorched across their earth. The price of cheap commercial crap isn't paid at the cash register; it's paid down the line.

"It's important to think on a wine estate as a multi-generational, long term endeavor," Sam says. "It's the only way for it to really work. I think a lot of the people who come into the industry think they can get in and out and make a good return in ten years or shorter."

As he talks we pass a cluster of beautiful red devon cows slouching in the long green grass. "They're here for a reason," Sam says. "But even if they weren't, I just love having them around."

Sam himself certainly isn't playing the short game. He's been interested in wine for just about ever. His first part-time job and his first full-time job were both involved with wine. He was a key player in fine wine retail in London, going back. He was born to New Zealand parents in England.

I ask Sam about Marlborough sauvignon blanc, the phenomenon. Churton sauvignon blanc, with its weight and wood and seriousness, lives in a different room to the boomtown examples of the style. But he's been living in the region for 20-odd years and has been in thick of it whether he likes it or not.

"There's what I hope will happen, and what I think will happen, and they're not the same thing.

"But I think of what happened with Chablis 30 or so years ago. It went through a boom and a lot more vines were planted and the quality went fairly quickly in the wrong direction. But then out of that we had producers like Raveneau and Dauvissat making really good wine and asking a fair price for it."

There's irrigation at Churton – live through a hot summer here with the constant winds and you'll know why – but it's used so sparingly that through some summers many of the blocks are not watered at all, or only once. If they are watered it's in a good hit, rather than via the bottle feed of the regular drip. These vines will make good strong independent adults; they will not cling to their owner's teat.

"The problem with much pinot noir is that it ripens too quickly. That's my thinking with the east-facing blocks.

"The other aspect is how you manage your tannin. The quality of tannin we get here is very different to the tannin they get say in Burgundy. A lot of that is that we have young soils and we tend to irrigate. It's critical I think that we slip into water deficit prior to veraison. That we're getting proper lignification. For me, that's a significant signal that we're getting properly polymerized tannins.

""When I'm making pinot noir I'm looking for tannin distribution throughout the mouth, rather than spatially in one part of the mouth."

This place has been BD since 2007, though the preparation began a long time prior. All the blocks are multi-clonal, and during fermentation the clones are not kept separate. "We are built firmly on the idea of a domain. We think that's important, both to the harmony of the wines and the way we think.

"We're not trying to make classic Marlborough pinot noir we're trying to make classic Churton."

————-

Churton Sauvignon Blanc 2012
Screwcap. Smoky, grassy, gravelly. 14% fermented in old oak. Some of the oak is new. Has body and soul, weight and impact. Yet it's mannered. Has a distinct, gravelly, minerally finish. The focus is towards the end of the palate, not all up-front. 93+

Churton Sauvignon Blanc 2011
Cork. Beautiful texture. So juicy. Smoky oak, juicy fruit, gravelly finish. Act I, Act II, Act III. Shows slight signs of development, in a positive way. Richer than the 2012. 93.

Churton Sauvignon Blanc 2010
Cork. Extremely good. Delicious complexity. Mouthfeel, cut, mineral, melon, pulp. Gravelly aftertaste. Thrillingly fresh. 93.

Churton Viognier 2011
14.5%. Cork. Hand-picked. 100% barrel fermented. 50% of this oak was new oak. And yet it's understated. Palate brims with life. This is terrific. Steel, apricot, woody spicy. Texture and length. Barely shows its oak at all. Doesn't show its alcohol either. Natural acidity provides the magic dust here. Cracking. 94.

Churton Pinot Noir 2010
Cork. Wild ferment, long maceration on skins (around a month). Weighty, meaty, bitter-edged pinot noir. Seriousness in a glass. Spice and black cherry. Not at all sweet. Peppermint, grunty tannin, both velvety and grainy. This will cellar for a long time. 94.

Churton Pinot Noir 2009
Cork. Aromatic. Has a fleshiness but it then churns through the tannin on the finish. Musk, mint, rose-petal, dark cherry, undergrowth. You want to call it loose-knit but then it makes sure that you don't. 92-93.

Churton Pinot Noir 2011
Cork. Lake of drying tannin. Mocha, twigs, woodsmoke, mint. Characterised by its long chains of tight tannin. Needs a lot of time. Characterised, too, by its lack of fruit sweetness. 92+

Churton The Abyss Pinot Noir 2010
Cork. Made in 2008 and 2010. Won't be made from 2011 and 2012. Likely to be made from 2013. Quite remarkable pinot noir. The draw of tannin, like undertow, pulling from the back of the palate to the front. Remarkable. Dark cherry and undergrowth. Mocha, mint. Pinot Noir with stuffing. If you're on a pinot noir journey, you must experience Churton. 95+.

Churton Petit Manseng 2012
Cork. High acid, high sugar variety. Shows it here, though the acidity is a pure line through it, pulled tight. Apple and lemon. Fruit seems pure and bright. Smells like an apple orchard in summer. Sweetness. Has an attractive green hue. Wonderful it has to be said. 92.
Visit winery website
Add to My List