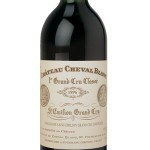 Was fortunate to taste all the first growths last night, not once, but twice. The first time from a Riedel Chianti glass, then a couple of hours later from a big glass. Wow. They improved. Or maybe it was the 16 other 2005 Bordeaux that I tasted in the interim (reviews to come) that got my eye in? Regardless a great privilege to taste these wines in their extreme youth, afforded me by the crew at United Cellars in an impeccably well run event. Thank you.
So as much as I like, well love, the left bank, it's the right bank that most often brings a little tear to the eye. And Cheval? Well, when it's good, it's remarkable. *kerchink*
Clean pure nose. Amazingly expressive – floral and raspberry, blue fruits, spice, wood and some liquorice and vanilla. You can get lost in it. Then medium bodied, rich, round and succulent with a graphite core of firm grained grippy tannin buried in a wine of remarkable intensity and concentration. That being said, the nose is far more open for business than the palate, even though as a baby the finish is exceptional for its length and sustain. Hear that? That's sustain. First tasting I had 98+/99 points, and the second made up my mind. How I wish, sometimes, I were a wealthy magnate. Otherwise, just the stuff of dreams.
Tasted : May13
Alcohol : 14%
Price : $1200-2000
Closure : Cork
Drink : 2020 - 2050
Visit winery website
Add to My List