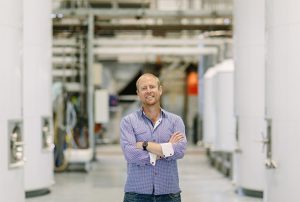 Winemaker Adam Wadewitz is the latest star to join the Shaw & Smith team. Get set for another blast of quality releases.
——
First published in Halliday Magazine in 2014. Written by Campbell Mattinson.
Successful wineries are like successful relationships. They're never accidental. They're the result of a lot of good decisions taken over a long period of time. Patience is the key ingredient but this is the thing: so too is an underlying restlessness. One without the other is useless. If you don't ask yourself, as you walk to the dais to accept your gold medal, how you can be even better the following year then chances are you're on the way down.
This truth is especially self-evident at leading Adelaide Hills winery Shaw & Smith. This stylish operation began in the late 1980s and quality-wise it's never taken a backward step. And yet Shaw & Smith has recently taken steps to steadily ramp the quality higher over the next handful years. This increase in quality is not merely possible; it's become inevitable.
That's where new winemaker Adam Wadewitz comes in. He's the foreign invader who went away to conquer interstate districts but who grew up – almost – around the corner.
"I was born in McLaren Vale, born at Willunga hospital, born and bred," Adam says.
"I was the son of a nurseryman, grew up on an almond orchard, just grew up loving to grow things. I used to play basketball in McLaren Vale though and played against (winemaker) Ben Riggs and got a vintage job through that (at Wirra Wirra). After a while of travelling and doing vintage work each time I came home someone eventually said, Come on, you're not an idiot, smell this, taste that. And I started to think, Hang on, I really enjoy this.
"And then once I got more serious about it I started to look at it like a young chef. Whose wines do I like, who would I love to work with?"
Adam went from Wirra to Brokenwood in the Hunter Valley and "learnt from PJ (Charteris) and Iain Riggs and Len Evans and tried wines that until then I didn't really know existed, and once you've tried those wines they change your perspective, and you can't really go back. And working with (Brokenwood) Graveyard Vineyard, it's such an amazing vineyard, you kind of get addicted to looking for great vineyards."
Adam also worked at Petaluma, Shadowfax, and in the Jura in France. When he arrived at Shaw & Smith he stepped into a stylish, architecturally-designed, black-walled winery. Here he's been tasked to do what he does best. Two years ago, when he was the winemaker at Best's Great Western, he took one of the worst vintages in Victorian winemaking history – the 2011 vintage – and turned out a wine that ended up winning the Jimmy Watson. He's the cream. The elite performance winemaker. He makes good wines better.
"When I told my winemaking mates that I was taking the job at Shaw & Smith I copped a bit of a stick about all the sauvignon blanc I'd be making. But the attention that goes into Shaw & Smith Sauvignon Blanc has surprised me. An incredible amount of effort goes into it. It's 100 percent hand-picked for starters, and that's a tough logistical task. And so much crop manipulation goes into it to make sure it's grown right.
"And having a low yield allows us to jump in and pick it early, which keeps good natural acidity. As a winemaker it makes life so much easier if it's been picked at the right time."
Shaw & Smith Sauvignon Blanc has been a crowd favourite among Australian drinkers for going on two decades. "The wonderful thing about that," Adam says, "is that it's an audience that can be taken on a fine wine journey. We're not going to make a barrel fermented funky thing but we really can refine the style and do little things that will add some detail with the wine and evolve it.
"There's something to love about purity (of fruit flavor) and if you get that right, well, sometimes it's not trendy, but purity is really beautiful. The truth is always in whether or not you want to sit down and drink a bottle, not just taste it."
Drinkability. Fashion. The next steps for Shaw & Smith. Given that this label has straddled the great modern Australian wine boom, it's interesting – in a telling way – that the Shaw & Smith range is still tiny. Modern and stylish they may be, but salves to fashion they are not. The range in its entirety: the famous sauvignon blanc, the increasingly noteworthy M3 Chardonnay, the shiraz (itself a beacon of the variety out of the Adelaide Hills), and the more recent pinot noir. The winery's restaurant label, Incognito, adds barbera and in days gone by there was a merlot and a riesling, but the core range today is four wines only.
It suits Adam. "The best winemakers I've worked with aren't searching for rules or a style, they're reacting to the season. If you start worrying whether you're on trend or off trend, then you've probably lost your way. What you need to do is look at the grapes in front of you and ask yourself what it is the season is trying to say."
Rather than following trends, the improvement at Shaw & Smith will come from better vineyards, better managed, more sympathetically made.
"When I looked at the wines we made here in 2013, everything we saw in the glass translated directly from what we had seen in the vineyard, and that's really exciting to me. That's when you start to think that all of us here are on the same page, and where it is that we can do some fine tuning, to make those crucial five percent improvements.
"I don't mean to disrespect the South Australian model. But having come from a cooler climate, we're probably more comfortable to take things more cooler, we think there are a lot of great sites around here that haven't been developed or properly taken advantage of, and we're lucky enough to have identified a couple of them.
"The truth is, you wouldn't see myself, Ray Guerin (one of Australia's leading vineyard managers, and an expert in cool climate viticulture) and David Lemire (an all-round expert on global wine) all here if we didn't think there was such a great amount of potential out of this region."
In short, the changes at Shaw & Smith will come from new vineyards (it's just bought an established vineyard at Lenswood in the Adelaide Hills, and now owns the famous Tolpuddle vineyard in southern Tasmania), use of higher altitude sites, a new winemaker, a new vineyard guru, and new equipment in the winery. The winery has always been good for white winemaking, but Adam has quickly improved the set up for red winemaking. Longer maceration of the reds is a key immediate change.
"When you walk through the Tolpuddle vineyard, for example, you can't help but get a bit excited over what you might be able to turn it into. You taste some flavours at low Baume there that you just don't get on the mainland."
All this at a time when the Shaw & Smith range is already in fantastic shape. Indeed all four wines in the range have never seen better form. But then – with founders Martin Shaw (a international winemaker since 1981) and Michael Hill Smith (Australia's first Master of Wine) still firmly at the helm, there are a hell of a lot of wine brains cells firing around this place.
So much so that it could almost be a problem. "We had the big tough conversation before I came here," Adam says. "There are so many good palates here, there is such clarity of decision making, but we don't want to be making wine by committee, we have to keep our mind clear and listen to what the season and the vineyard are telling us. But at the same time, you'd be an idiot not to listen to the people I have access to here."
ADAM WADEWITZ TIMELINE
– Started in the Vale working with G Merrill (1998) and then Wirra Wirra (1999 – 2000)
– United States (1999) vintage and then Jura (2000)
– Went to Brokenwood (2001-2003)
– Came back to study and worked at Petaluma (2003- 2005)
– worked with Harrop at Shadowfax in 2004
– Best's from the end of 2005 – Dec 2011
– Seppelt 2011 Jan – 2012 Jan
– Shaw + Smith 2013 – present
Visit winery website
Add to My List